Tsunami warnings have been issued across both sides of the Pacific after a magnitude 8.3 earthquake struck off the coast of Chile, killing at least five people.
The powerful quake shook buildings as far south as Chile's capital, Santiago, around 175 miles (280km) away from the epicentre.
Around one million people have been evacuated from coastal areas, officials said, which were hit by widespread flooding.
While the effects are expected to be less severe elsewhere, advisories were issued for other parts of South America, Hawaii, California and French Polynesia.
In New Zealand, warnings were issued for residents in eastern coastal areas. Authorities urged people to stay away from beaches amid concerns for "unusually strong currents and unpredictable water flows near the shore".
Data from the US Geological Survey suggested that there had been 29 significant aftershocks in the hours since the initial quake, which occurred just off the coast, 30 miles west of Illlapel.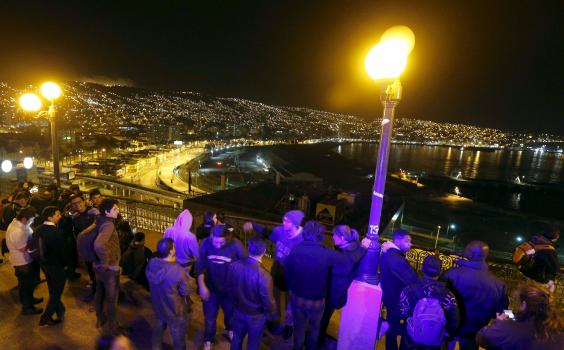 President Michelle Bachelet said she planned to travel to the areas worst affected by the quake, the biggest to hit Chile since 2010.
"Once again we're having to deal with another harsh blow from nature," Bachelet said in a televised statement.
She said that of those confirmed killed at the time, two women died after rubble fell on them while a man died of a heart attack.
Television images showed panicked people gathered in streets lined with damaged buildings, while big waves flooded roads in some cities along the coast.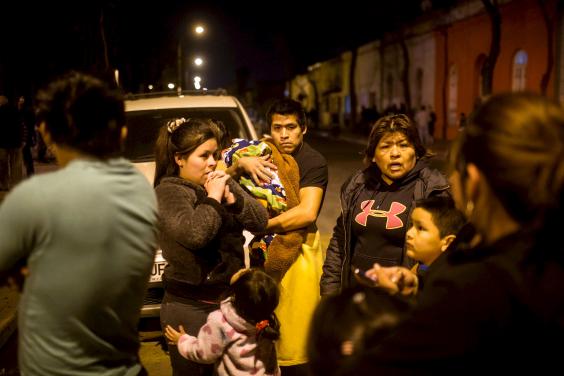 The tremor was so strong that people in Buenos Aires, Argentina, on the other side of the continent, reported feeling it.
People in Peru and Brazil also reported feeling the shakes. No injuries were reported outside Chile.
Claudio Moreno said he was in a Santiago bar when it hit. The shaking was powerful, but more worrying was how long it lasted, he said.
"We went out in the street when we felt it was going on too long," he said. "It was more than a minute."
More than 500 people were killed in February 2010 when a magnitude 8.8 quake struck off central Chile.
Although officials warned it was too early to know for sure, it appeared the quake had a much smaller impact than the 2010 tremor.
If that turns out to be the case, it could be a sign that Chile's traditionally strong risk reduction measures and emergency planning had improved in the last five years.
"Earthquake impact is a little like real estate: what matters is location, location, location," said Susan Hough, a geophysicist with the US Geological Survey.
"But it is true that preparedness and risk reduction in Chile is ahead of that in much of the world, and that makes a difference."
Additional reporting by agencies