Chris Christie, the Governor of New Jersey and Republican presidential hopeful, is under pressure to explain newly unveiled details of trips taken on donated private jets and a $30,000 weekend at a five-star luxury hotel paid for by King Abdullah of Jordan following a 2012 visit to Israel.
The revelations, reported by The New York Times, came as Mr Christie was preparing to wrap up a three-day visit to London that ostensibly was about promoting British investment in his state but was clearly meant also to burnish his credentials for a likely bid for the Republican Party nomination in 2016.
While there is leeway under state law in New Jersey for government officials to accept gifts from the private funds of "friends", it seems clear Mr Christie would be in violation of ethical laws if he was a US senator or indeed president. But even if he is guilty of no ethical lapses, any suggestion of a taste for a first-class lifestyle will sit badly with the Everyman image he has carefully cultivated for himself.
For the Israel visit, Mr Christie availed himself of a private jet owned by the Las Vegas casino billionaire Sheldon Adelson who at the time was lobbying him not to sign a law legalising online gambling in his state (which he in fact did end up signing). He brought along most of his family who then joined him also as guests of King Abdullah at the Kempinski Hotel and for three parties, one featuring Bono of U2.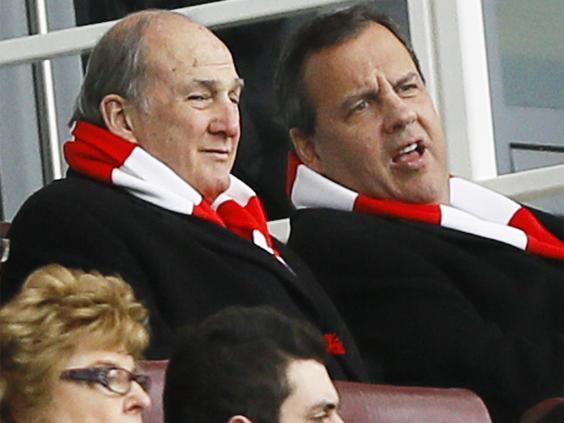 Mr Christie was already trying to deflect a possible state investigation into three trips he made to watch the Dallas Cowboys football team in Texas aboard the plane of the team's owner Jerry Jones who also provided the governor each time with a luxury private box to enjoy the games. At the time of the trips a company partly owned by Mr Jones was bidding for a significant New Jersey government contract.
A spokeswoman traveling with Mr Christie in London did not respond to requests for comment. But she defended the Jordan weekend to The New York Times. "King Abdullah invited the governor and his family to Jordan as his personal guest so the two families could spend time together," she said.
The newspaper also cited a Justice Department review of Mr Christie's high-spending habits when he traveled in his capacity as US Attorney for New Jersey before he became governor. Among incidents highlighted in the report was a return taxi ride between Heathrow and central London that cost $562.
Reuse content