The US weapons maker Colt – the company that produced the "the gun that won the West" – has filed for bankruptcy amid delays on government sales and declining demand.
Colt Defense LLC, the 179-year-old gunmaker that supplies M4 carbines and M16 rifles to the US military and those of many foreign nations, said it took the action to enable a quicker sale of operations in the US and Canada.
The West Hartford, Connecticut-based company said it secured $20m in financing from its current lenders and will continue to operate while in bankruptcy, the Associated Press said. The entire restructuring process is expected to be complete within 90 days, after which Colt plans to remain in business.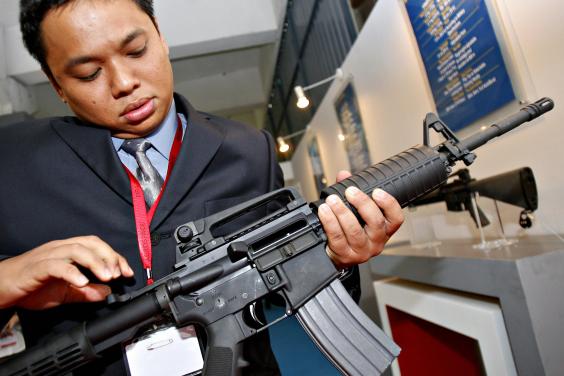 In its filing, the company estimated that it owes up to $500m to up to 50 creditors. It also listed assets of up to $500m.
The company was founded in 1855 by Samuel Colt and the revolvers it produced helped propel the firearms industry away from single-shot pistols. More recently, it was a supplier of the M4 carbine to the U.S. military
Keith Maib, chief restructuring officer, said in a statement: "Colt remains open for business."
Colt has been confronting problems since November, when it took out a $70m rescue loan from Morgan Stanley to make an interest payment. It has struggled to compete as it sales in modern sports rifles and handguns fell 30 per cent  2014 and delays in US government sales also hit the business.
Colt supplied the US military with M4 carbines used by front-line troops in the late 1990s and early 2000s, but that deal ended in 2013.
Samuel Colt opened his first plant in Paterson, New Jersey, in 1836 and became one of the ten wealthiest businessmen in the US.
One of his rifles, the Winchester Model 1873, became known as "the gun that won the West" in the 19th century, with more than 700,000 being produced. A 1955 film with the same name starred Dennis Morgan.
Reuse content