Jeb Bush's planned campaign for the Republican presidential nomination has suffered a setback with revelations that his wife Columba spent $42,311 (£27,369) in a single day on jewellery including a Bulgari diamond bracelet.
Mrs Bush, 61, is reported to have taken out a loan of $42,311 from a Florida jeweller in order to buy the bracelet and other items.
Details of the purchases, reported first by the Washington Post, have put a new spotlight on Mrs Bush, who during her husband's two terms as governor of Florida between 1999 and 2007 kept a notably low profile and is known to have had reservations about his running for president.
Records filed by Mayors Jewellers of Miami showed that Mrs Bush, a Mexican national who met her husband in 1971 when he was an exchange student, took out $90,000 in loans over a 15-year period. Most recently, she bought a $11,700 Rolex watch and a $9,500 pair of earrings. Mr Bush tweeted a wedding photograph today to mark the couple's 41st wedding anniversary.
Happy anniversary to my beautiful wife of 41 years, Columba. pic.twitter.com/70yJ0riIhn

— Jeb Bush (@JebBush) February 23, 2015
Her aversion to publicity was in part born of another episode when she failed to declare $19,000 in purchases made during a shopping spree in Paris in 1999. She was mortified at the political damage to her husband but also felt unfairly treated by the press.
Mr Bush made clear his desire to seek the presidency before Christmas, reportedly after securing the acquiescence of his wife in return for a promise to make time for his family every week.
Her Mexican roots and his own mastery of Spanish could prove an asset for a party seeking to heal rifts with the Hispanic community. At issue now, however, is whether her distaste for politics and her jewellery collection might instead make her net negative.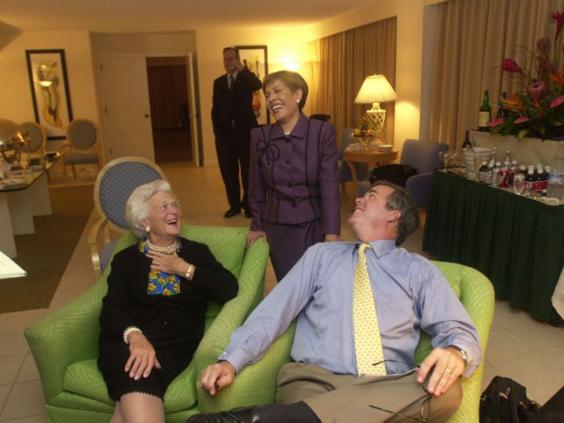 If Mr Bush formally declares, the scrutiny will only intensify and simply opting out of the campaign circus will not be an option for Mrs Bush. If her husband becomes the nominee and Hillary Clinton runs for the Democrats, the contrast between the spouses would be stark: Columba, the low-key spouse, versus Bill Clinton, her extrovert opposite.
"She doesn't enjoy the limelight," Matt Mackowiak, a Republican consultant with the Potomac Strategy Group, conceded. "But if she gets more comfortable then she could become a powerful political spouse. She is unique and she has a year to ramp up. That's the question: Is she going to get to the point where she can be of value to the campaign?"
Any perception of living high on the hog is dangerous for a candidate and perhaps especially for Mr Bush, who has vowed to focus on income inequality. It hurt Mitt Romney in 2012. Some still recall the damaging jibe by the late Ann Richards, a former Texas governor, in 1988 mocking then presidential candidate George H. W. Bush – Jeb's father – as having a "silver foot in his mouth".
It also represents peril for Mrs Clinton, who has been criticised for using the period since she left the State Department in early 2013 to deliver speeches for exorbitant fees, sometimes $200,000 a time.
The queasiness of Mrs Bush, born Columba Garnica Gallo, was surely also fed by an experience in Mr Bush's first term as governor when their daughter, Noelle, then 24, was convicted after using a fake prescription to buy pain-killing drugs. She was sent to a rehabilitation clinic but later endured stints in prison for possession of proscribed pills and crack cocaine.
Mrs Bush's shopping excursions should not present too much of a threat, said Mr Mackowiak. "It's hard for me to see that would be a significant liability. What matters more than how she spends money is Jeb. And he has a reputation of being pretty frugal."
Reuse content