Audrey Reynolds suffered from epilepsy all her life. A congenital brain abnormality meant she would suffer seizures if she did not take three tablets a day. It proved a constant frustration that nothing could be done to cure her, but the devout Christian lived in hope that one day her condition would improve.
In the summer of 1992 a poster advertising the imminent arrival in London of American TV evangelist Morris Cerullo caught the 25-year-old's eye. "Some will see miracles for the first time" it claimed.
Audrey was intrigued and joined 80,000 people who went to Cerullo's eight-day "crusade" at the Earls Court exhibition centre. Having queued patiently for her chance to meet Cerullo, Audrey took the stage telling the preacher she believed his message of healing power had cured her. Six days later she had an epileptic fit and drowned in her bath.
The inquest into Audrey's death heard that only 2.2mg per litre of the lifesaving drug she needed was found in her body - the dose should have been 7.2mg. Recording a verdict of accidental death, Southwark coroner Sir Montague Levine said: "It is a tragedy that she went to this meeting and thought she was cured of everything. Sadly, it led to her death."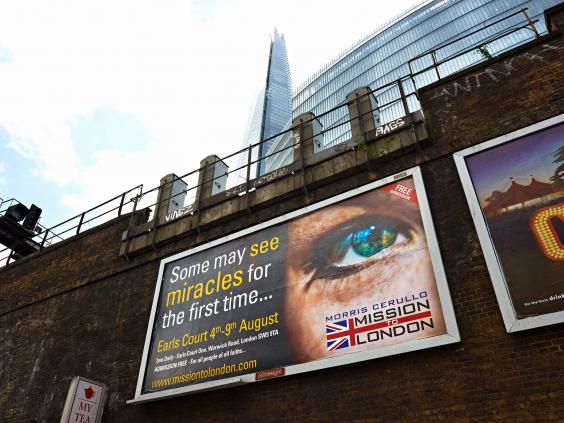 A spokesman for San Diego-based Morris Cerullo World Evangelism (MCWE) called it "a very sad situation" but two weeks later the preacher held a press conference raging at the "total injustice" of being blamed for having any role in Audrey's death. Referring to Sir Montague's comments, the televangelist said: "I think it was a mischaracterisation, a total injustice. I think conclusions were drawn too quickly. The coroner did not have evidence of the attitude of the person's mind and he decided what he thought of the matter."
Dr Cerullo said his crusade to London had been a success and that he had received 746 testimonies from people saying they had been cured of various ailments after attending the rally. Now the controversial preacher is about to return to England, aged 82, for the last time.
His final "Mission to London" posters advertise a six-day residency at Earls Court next week and again make promises of miracles. On promotional material he boasts: "I am expecting 1,000+ people to be saved every night for six nights during August 2014."
Audrey's mother, Belzie, is furious. "Cerullo is a dangerous man but I can't stop him, much as I'd like to," she told The Independent from her home in Clapham, south London. "His shows are all about money. I remember when my daughter went there all those years ago looking for hope, believing something might happen. I didn't go. I watched it on TV and saw there were people with buckets collecting money throughout the event. They are all in it for the money."
Audrey's story is not the only tragic one associated with Cerullo's trips to England. Great efforts have been made to remove video footage from the internet of him "healing" his audience, but some remain. Audrey can be seen in one clip face to face with Cerullo, declaring that she feels fine "because I can jump". Cerullo asks to see her jump. Audrey obliges and Cerullo screams his delight at the audience at the "miracle".
Moments later an apprehensive four-year-old called Natalia Barned suffering from neuroblastoma, a childhood cancer growing just above the kidney, arrives on stage clasping her mother in one hand and a tissue to wipe her tears away in the other. Cerullo descends on the pair and takes the girl's hand.
"Can you feel any pain?" he bends down to ask. "No," the young girl replies. Natalia's mother gives her a fist bump. Cerullo repeats the question. Natalia repeats her answer. Cerullo takes the girl's hand and walks to the front of the stage to raucous applause. Cerullo asks the Earl's Court audience to raise their hands and thank God. She died two months later, on 23 August 1992.
If healing should be in short supply at Cerullo's shows, money is not. There are 7,000 seats available for the Mission to London, which although offering free admission also asks for a £20 registration fee to attend the European School of Ministry. Around 5,000 people have done so already netting MCWE £100,000 before the event even begins.
Cerullo's path to preacher began at the Orthodox Jewish orphanage he was raised in after losing his parents aged two. He claimed as a teenager he was led away by angels, the catalyst for his evangelical journey. He graduated from divinity school in New York in 1953 and began his worldwide quest "to fulfil God's plan". His website still states that "the lame walk, the blind see, the deaf hear," at his Miracle Crusades.
Steve Lumbley, from US-based Apostasy Watch, says Cerullo's website is "a cornucopia of wild claims and self-aggrandisement. Humble he is not".
With Curello's wealth estimated at £30m, a businessman he is. When televangelist Jim Bakker became embroiled in sex and financial scandals in the late 1980s, Cerullo paid $7m for his Christian TV channel and renamed it The Inspiration Networks. It relied on advertising revenues in the 1990s but began soliciting donations from the public in 1999. Gifts that year came to $200,000 – by 2008 annual donations reached $40m. Its flagship channel, INSP, reaches 120 million people worldwide and promises a mix of ministry programming with "wholesome family classics" such as The Waltons and Little House on the Prairie. Most recent annual records show that the company had total revenues of $94m in 2012, of which almost $40m came from donations. It spent $91m on "expenses".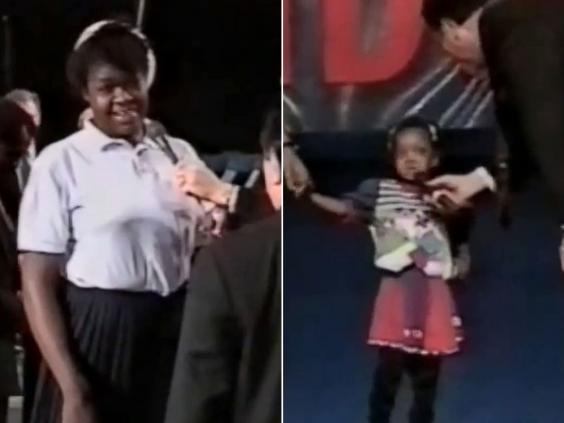 Cerullo was sued twice in 2000 by employees who said they were fired after raising questions about fundraising. John Paul Warren, a former Senior Executive with MCWE said he confronted Cerullo about "unethical and fraudulent fundraising techniques" in his lawsuit against the organisation, which said that Cerullo lived in a 1,000sq ft mansion in the exclusive San Diego community of Rancho Santa Fe, and owned a jet with a gold-plated interior. A California appeals court said that the courts could not get involved in the case since it involved employment at a religious organisation, and that state involvement would violate constitutional rights. The money continued to pour in.
By 2009, the growing empire enabled Cerullo's son David, chief executive of the network, and his wife Barbara, to build a $4m, 11,000 sq ft lakefront home in an exclusive neighbourhood. It sits on the edge of the Blue Ridge Mountains west of Greenville, South Carolina, in a gated community that overlooks picturesque Lake Keowee. The message that God brings financial favours to those who donate continued unabated. By 2009 David Cerullo was earning more than $2m a year, making him the highest paid leader of any religious charity according to MinistryWatch.com. Barbara earned $200,000.
But it is Morris Cerullo's claims of healing that remain the most controversial aspect of Morris Cerullo's empire. Julian Richards, MCWE's Europe Director told The Independent: "I have never come across any false claims of healing in the 16 years I have worked with MCWE. People with cancer, any terminal illness can be healed. There is no condition that God cannot heal. Morris has never claimed he is the healer, it is God that heals. Morris is the conduit. I would invite the sceptics along next week to see for themselves."
Cerullo withdrew from Britain's Evangelical Alliance, which represents two million evangelicals, in 1996, after the Advertising Standards Authority upheld four complaints against him relating to his claims that he could miraculously cure the sick and disabled. However, the group still supports him.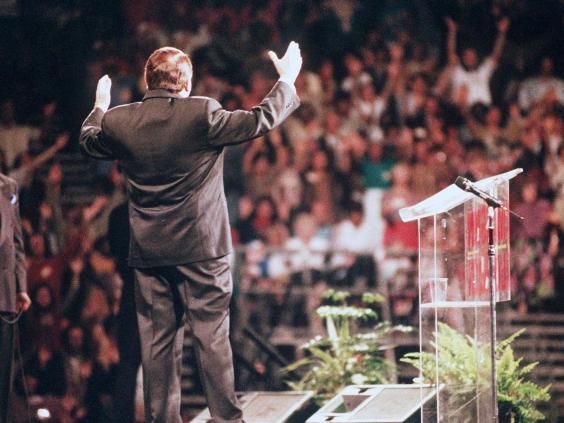 Steve Clifford, general director of the alliance, said on Friday: "Despite the controversy of 22 years ago, he is respected by many in the Christian community and his ministry has been a blessing to hundreds of thousands of Christians across the globe. I do know that many members of the Evangelical Alliance will be going to his meetings in London and will find them a source of support and encouragement to their Christian faith."
One Christian who will not be going is Belzie Reynolds. It is more than 20 years since she lost her daughter but the pain never diminishes. A framed photo of Audrey with her two brothers sits on her mantelpiece serving as a reminder of happier times.
Mrs Reynolds has just one message for Cerullo: "Why did my daughter die? You said you could help people. Why did my daughter have to die?"
Profile: Morris Cerullo
Morris Cerullo is no stranger to controversy. In 1991 British authorities suspended the licence of a satellite station for broadcasting Victory with Morris Cerullo. It was reinstated after the station agreed to precede the program with the disclaimer "Morris Cerullo World Evangelism cannot substantiate the claims made by those participants featured in this programme", and advised all persons suffering from illness to seek medical attention.
The following year Cerullo was reportedly expelled from India after near riots broke out at one of his rallies. The San Diego Union Tribune said: "Cerullo worked a crowd of 30,000 – many of them sick – into a frenzy for two hours and then pronounced them cured, prompting many in the crowd to call him a cheat".
In 1999, the Christian Channel was fined £20,000 for breaching advertising codes relating to political impartiality after a complaint about an advert for a Cerullo rally that claimed "Satanic hordes" had "occupied the principal palaces of power in Europe".
Cerullo had been due to go to trial in August 2007 on three counts of filing false tax returns that misstated his income by $550,000 between 1998 and 2000. Each count could have carried a maximum penalty of three years in prison and a $100,000 fine. A US District Judge found that grand jury members were not told that a donor's intent is key to determining whether money given to religious ministers is subject to tax and dismissed the charges.
Reuse content