A Texas hunting club which auctioned the opportunity to kill an endangered black rhino last year has cancelled a similar plan to sell an elephant-hunting permit.
The Dallas Safari Club had intended to auction a 12-day hunting trip to Cameroon, including "the right to hunt a mature bull elephant", according to its catalogue. But at the weekend the group's executive director, Ben Carter, told Associated Press the sale had been called off after the donor withdrew the offer.
Several auction lots remained on offer during the club's three-day convention at a hotel in Dallas at the weekend, including a 14-day leopard hunt in Mozambique. The Wordwide Fund for Nature (WWF) says the African elephant, the largest land animal, faces "a high risk of extinction in the wild". The auction catalogue advised prospective buyers that an elephant trophy would not be "importable to the US", but nonetheless valued the hunt at $20,000 (£13,200).
Critically endangered species
Critically endangered species
1/10 Yangtze Finless Porpoise

There are as few as 1,000 of this highly intelligent dolphin from the Chinese river of Yangtze.

Wikmedia

2/10 Cross River Gorilla

There are around 200-300 left in the wild.

Wikmedia

3/10 The Amur Leopard

There are only around 30 left, exclusively in the Russian Far East.

Wikmedia

4/10 Black Rhino

Improving numbers, but with fewer than 5,000 left in central Africa, it is critically endangered.

Wikmedia

5/10 Hawskbill Sea Turtle

Mostly threatened by wildlife trade; their shells highly valued.

Wikmedia

6/10 Javan Rhino

The most threatened rhino species - there are as few as 35 in Ujung Kulon National Park in Java, Indonesia.

Wikmedia

7/10 Leatherback Turtle

Having lost many of its habitable beaches, and impacted by fishing operations, this seaturtle is considered by WWF to be 'critically endangered'.

Wikmedia

8/10 South China Tiger

It is believed to be 'functionally extinct', with none of the species left in the wild.

Wikmedia

9/10 Sumatran Elephant

There are between 2,400 - 2,800 of this elephant native to Borneo and Sumatra.

Wikmedia

10/10 Sumatran Orangutan

There are an est. 7,300 but the gradual deforestation of their Sumatran habitat may threaten further.

Wikmedia
In January 2014, the club was condemned for its auction of a permit to shoot a black rhino in Namibia, which was eventually bought by Corey Knowlton, a professional hunter and reality TV "personality". Mr Knowlton's hunting trip has been postponed, however, while the US Fish and Wildlife Service decides whether to grant him a licence to bring the animal's head home to Texas after it is killed. The trade in rhino parts is governed by strict international regulations, and to import his trophy, Mr Knowlton must demonstrate that it was killed as part of a wider conservation effort.
Several African countries have introduced hunting quotas, selling licences to support conservation. Namibia auctions up to five permits each year to hunt specially identified, individual rhinos.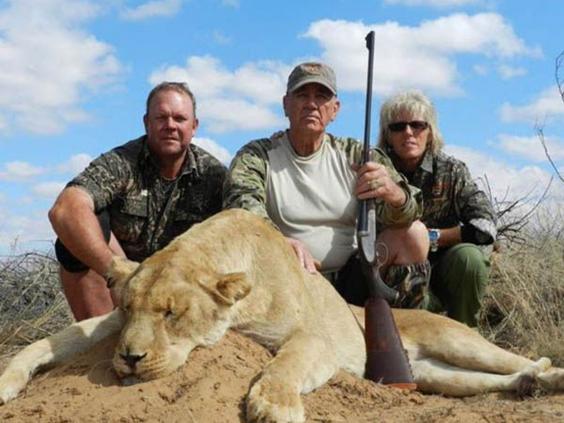 The proceeds of last year's rhino auction were destined for a fund to support anti-poaching patrols. At least two wild rhinos a day are killed by poachers for their horns, which are widely sold as medicines in China and Vietnam.
The US Fish and Wildlife Service has reportedly received some 135,000 signatures on petitions that oppose the granting of the permit. The International Fund for Animal Welfare said rhinos and elephants "are in the middle of intense poaching" and that to describe the hunt as part of a conservation plan was "disingenuous".
Before this weekend's elephant auction was cancelled, Mr Carter said in a statement: "Elephants, lions and leopards are not listed as endangered species by the US Fish and Wildlife Service and, in fact, are overpopulated in certain areas of Africa." He added: "These species are commonly hunted where legal, sustainable and where populations need to be managed."
There are thought to be 5,000 black rhinos left in the wild, down from 70,000 in the 1960s. The wild African elephant population has dropped from 10 million to 500,000 over the past century.
Reuse content