A major comic book publisher has allowed the Superman logo to be included on a statue memorialising a murdered 5-year-old Canadian boy, following a public backlash when the organisation refused permission on Monday.
Jeffrey Baldwin died of starvation in 2002, after he and his older sister were sent to live with their grandparents during a period of respite for their troubled parents.
The siblings were repeatedly beaten, and forced to live in their own faeces in a cold, locked bedroom. They also had limited access to food, and resorted to drinking water from a toilet. Jeffrey died weighing 21 lbs – less than he did on his first birthday, the Toronto Star reported.
Jeffrey's grandparents were convicted of second-degree murder in 2006.
Last year, Todd Boyce, a father from Ottawa with no connection to the Baldwin family but who was moved by the inquest into the child's death, started an online fundraising campaign to build a statue of Jeffrey. He envisioned that the statue to be placed in Greenwood Park, Toronto, would feature the young boy dressed in the Superman outfit he had loved so much.
"He wanted to fly," Jeffrey's father Richard Baldwin said during the coroner's inquest. "He tried jumping off the chair. We had to make him stop. He dressed up (as Superman) for Halloween one year … He was so excited. I have that picture at home hanging on my wall. He was our little man of steel."
But DC's senior vice-president of business and legal affairs, Amy Genkins, rejected Boyce's request to use the iconic 'S' on the memorial.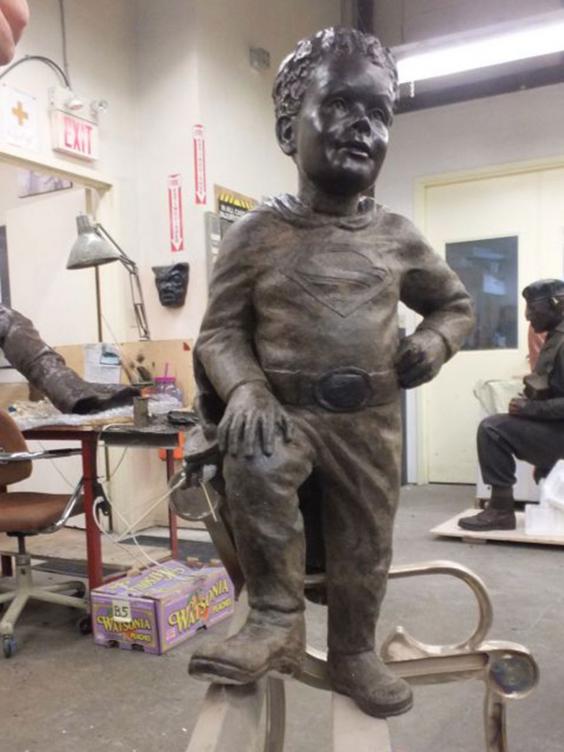 "For a variety of legal reasons, we are not able to accede to the request, nor many other incredibly worthy projects that come to our attention" she wrote in an email to the IT worker.
"I'm sort of empathetic to (DC's) point of view on this, but I feel very strongly that the image of Jeffrey is so powerful," Boyce told the Toronto Star.
"It's the image of a vulnerable boy dressed up as the most invulnerable character in the universe. So I just feel like there's something lost if we change it."
But after the DC Entertainment was bombarded with negative Tweets and boycott threats, Genkins called Boyce to confirm that the statue could feature the logo.
DC Entertainment said on Wednesday: "After verifying the support of appropriate family members, DC Entertainment will be allowing the Jeffrey Baldwin Memorial Statue to feature the Superman 'S' shield."
"I think all along DC has been very sensitive, that this is something they really did struggle with as an organization," Boyce told the newspaper. "In hindsight, maybe they might have been better off just quietly giving us permission in the first place."
The sculpture that will be cast into bronze is currently at a foundry. The monument, which included a bench, is predicted to be ready by the autumn.
Reuse content