A US presidential candidate going by the name of "Deez Nuts" has become the most successful independent in two decades.
An apparent reference to a Dr Dre track of the same name, Deez Nuts was reported by CBS News to be among more than 500 lesser-known figures to have entered the presidential race.
Records on the website of the Federal Election Commission confirm that a statement of candidacy has been filed under that name – but Deez Nuts only came to prominence when he featured in a survey by Public Policy Polling.
In North Carolina, the polling company asked people about a possible three-way race between Donald Trump, Hillary Clinton and Deez Nuts. The vote was split 40 per cent/38 per cent /9 per cent, respectively.
While there are apparently dozens of genuine die-hard Dr Dre fans across the US who have changed their name legally to Deez Nuts, no one of that name matched the address listed for the presidential candidate.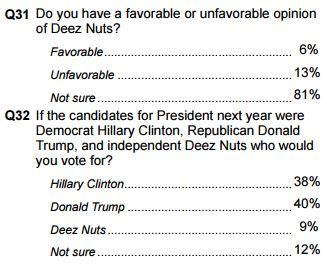 Daily Beast tracked down a 15-year-old named Brady Olson who did. The son of a farmer in Iowa, he told the website that he filed to run after hearing about the story of Limberbutt McCubbins, a cat who was entered by his owner for the Democrat candidacy.
He said: "The next step is to get some party nominations, like the Minnesota Independence Party or the Modern Whig Party. It would also be great to find a VP, preferably McCubbins because the Nuts/McCubbins ticket sounds amazing."
Sadly, there are a number of reasons why the Nuts campaign is unlikely to go much further.
For a start, even under an assumed name a candidate has to be at least 35 years old to become President of the United States.
Finally Deez Nuts get 9% in NC to go with their 8% in Minnesota and 7% in Iowa. Pretty consistent support: http://t.co/EIPkTvW3Ti

— PublicPolicyPolling (@ppppolls) August 19, 2015
Secondly, there hasn't been a completely independent president since the first, George Washington (though it's a topic that's up for debate).
Finally, Public Policy Polling has admitted that it included Deez Nuts in its testing "for the sake of entertainment" only.
In addition to his 9 per cent in North Carolina, he received 8 per cent of support in Minnesota and 7 per cent in his home state, Iowa.
Presidential prowess? Republican candidates in televised debate
Presidential prowess? Republican candidates in televised debate
1/10 DONALD TRUMP - MOGUL AND PRESENTER

Most likely to say: "You other guys are just a bunch of stiffs. I LOVE Mexico. I will make America great again!"

Least likely to say: "I invited Hillary Clinton to my wedding. Which wedding? I forget. Pass me a comb."

Reuters

2/10 JEB BUSH - FORMER FLORIDA GOVERNOR

Most likely to say: "I am the only one with a proven record as a conservative governor." He will always add at least one sentence in Spanish.

Least likely to say: "I know how to campaign. The last time I ran for office? 2003."

Reuters

3/10 SCOTT WALKER - GOVERNOR OF WISCONSIN

Most likely to say: "I took on the unions and beat them. I won two elections in a Democrat state and a recall election too."

Least likely to say: "Put a guy without a college degree in the White House. I won't tell you why I dropped out."

AP

4/10 MIKE HUCKABEE - FORMER GOVERNOR OF ARKANSAS

Most likely to say: "I will fight to end gay marriage and reverse the Supreme Court on Obamacare."

Least likely to say: "You over there, Fox News guy. Keep my seat warm in the studio, because I'll be back soon!"

AP Photo/John Locher, File

5/10 BEN CARSON - FORMER SURGEON

Most likely to say: "Barack Obama has been a disaster for America and I am the only to have called him out consistently."

Least likely to say: "I have never ever held elected office or even run for one. But I have a great life story!"

Getty Images

6/10 TED CRUZ - SENATOR FROM TEXAS

Most likely to say: "I will end big government and slash Washington to ribbons. Bye-bye gay marriage and Obamacare."

Least likely to say: "Hey, Mr Trump, if you want to play the 'birther' game again, I was born in Calgary, Canada!"

EPA/SHAWN THEW

7/10 MARCO RUBIO - SENATOR FROM FLORIDA

Most likely to say: "President Obama is wrong on Iran and wrong on Cuba. I won't chum about with tyrants."

Least likely to say: "I look like a puppy, but bring it on Putin. Yes, Jeb Bush was my mentor. Who cares?"

AP

8/10 RAND PAUL - SENATOR FROM KENTUCKY

Most likely to say: "Everyone else on this stage is war crazy. I will not send your children to fight pointless wars abroad."

Least likely to say: "Time Magazine called me 'the most interesting man in politics' last year. Why y'all yawning?"

Reuters

9/10 CHRIS CHRISTIE - GOVERNOR OF NEW JERSEY

Most likely to say: "I am a two-term governor in a Democrat state with a record of reaching across the aisle." Least likely to say:

"Any bridges in Cleveland I can foul up? Don't ask me about New Jersey's economy."

Getty Images

10/10 JOHN KASICH - GOVERNOR OF OHIO

Most likely to say: "Welcome to my state, where jobs are growing and spending is down. You want to win Ohio, don't you?"

Least likely to say: "Don't send me any foreign policy questions, because I'm more or less clueless. I might ramble. Again."

AP
Writing about the Minnesota results, PPP noted: "Deez Nuts haven't had much exposure to the American public – 89 per cent say they have no opinion about them either way.
"When you look at how supporters of Deez Nuts split in a head to head between Clinton and Trump, 25 per cent are for Clinton, 15 per cent are for Trump, and 60 per cent are undecided. So Deez Nuts are largely providing an outlet for voters to express their frustration with the other candidates."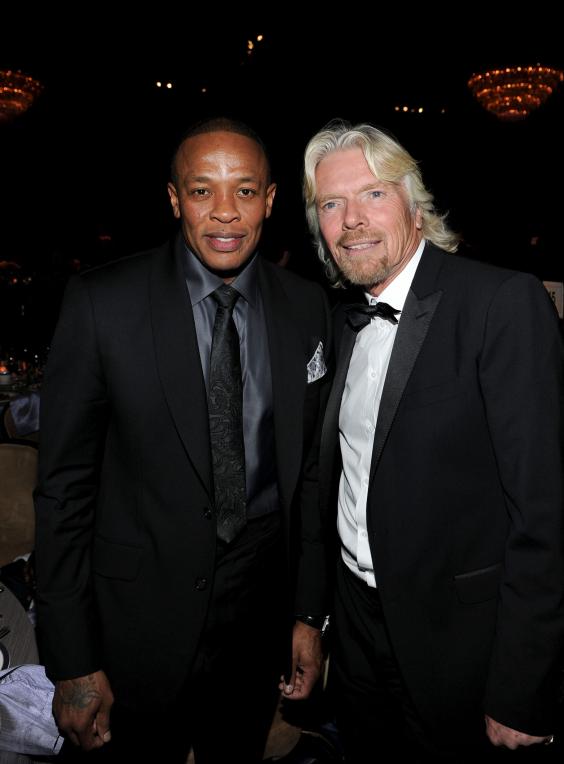 The song Deeez Nuts, featuring Snoop Dogg, Dat N***a Daz, Warren G and Nate Dogg, appeared on Dr Dre's seminal 1992 album The Chronic.
Inspired by a skit at the beginning of the track, the phrase "deez nuts" went on to become the punchline to a popular formulaic joke used to taunt someone.
The phrase grew in prominence after video of a man using it in one such prank went viral, being viewed millions of times.
Reuse content