A US airline has incurred the wrath of online mums by telling one woman she had to cover up before breastfeeding on a flight.
Despite the fact that US laws actively protect a mother's right to nurse her baby in public, a spokesperson for Delta Airlines told Lindsay Jaynes that she would "not be able to breastfeed" without covering up first.
Ms Jaynes, from Newport Beach, California, had already made the airline aware of the difficulties she had trying to get her 10-week-old son to nurse with a cover or from a bottle – and what started out as an innocent inquiry for advice quickly spiralled into a full-blown online row.
On Friday, Ms Jaynes (@ClassicHippie) tweeted to the airline: "What's your breast feeding policy? I'll be flying with my 10wk old son and he won't nurse with a cover or take a bottle. Thanks."
She received a reply from Delta's customer support team (@DeltaAssist) which said simply: "Lindsay unfortunately you are not able to breast feed if you don't have a cover up. I'm sorry."
Ms Jaynes asked what the airline proposed she do instead to feed her baby, at which point it suggested she bring bottled milk – despite her already telling them her son would not take a bottle.
Clearly frustrated with the response, she tweeted: "So even though I am legally allowed to breastfeed without a cover, you're saying I can't?" Delta did not initially respond.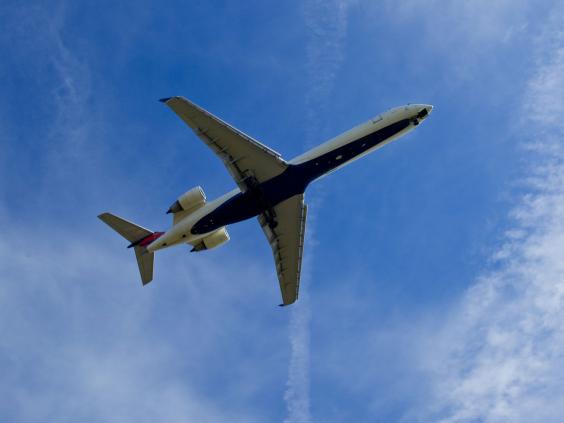 The exchange prompted a torrent of replies and messages sent to the airline in support of Ms Jaynes, and of breastfeeding mothers in general.
A number of users also took to the Delta Facebook page where, with no post dedicated to the issue, they commented on other articles and left reviews like this one, from Kayll Bryant Welvaert, which said: "I think it is shameful to tell a mother she cannot breastfeed on a flight without a cover. Better training is needed!! I will never fly Delta again.... my boobs are for feeding my child, it's really as simple as that."
Delta eventually got back to Ms Jaynes and told her that it was a case of one employee who was not aware of the company's policy on nursing.
"Delta welcomes breastfeeding mothers and babies on our flights. We sincerely apologize for the misinformation," the airline tweeted.
Reuse content