"The media has emphasised my age," said 92-year-old, partially-sighted Violet Palmer. "But my emphasis is that I have been robbed - and so have 15,000 people – robbed of our vote."
Mrs Palmer this week found herself in a situation she had never been in before, arrested and driven away by uniformed officers after she protested outside the gates of a Texas fracking site. She had been sitting there in a rocking chair
She and her son Theron were among demonstrators gathered at the gates of a site operated by Colorado-based Vantage Energy. Her son, 64, was eventually charged with trespass and blocking a highway, while she was released without charge. She said officers treated her with courtesy.
06/16/2015 09:20:18 Violet, 92 yrs old ♉ CRIM TRESPASS OBSTRUCTING HIGHWAY PASSAGEWAY http://t.co/rWrSAYThKV pic.twitter.com/qBnrgihqKx

— Arrests by @DentonPD (@DentonPolice) June 16, 2015
She had been sparked into action to protest fracking that residents in Denton, 30 miles north west of Dallas, had voted to block. That vote last November, prohibited hydraulic fracking within the city limits.
But local officials said the ban had become unenforceable amid a series of law suits from energy companies and in light of a bill passed by the Texas state legislature last month and signed into law by Governor Greg Abbott, that blocks cities from adopting such prohibitions.
Speaking from her assisted-living home in Denton where she still lives by herself, Mrs Palmer told The Independent she had been inspired to join the protests by the state legislature's actions and to try and force others in Denton to take action.
"We were robbed out of our votes," she added. "And a month ago I would have told you that could not happen in America."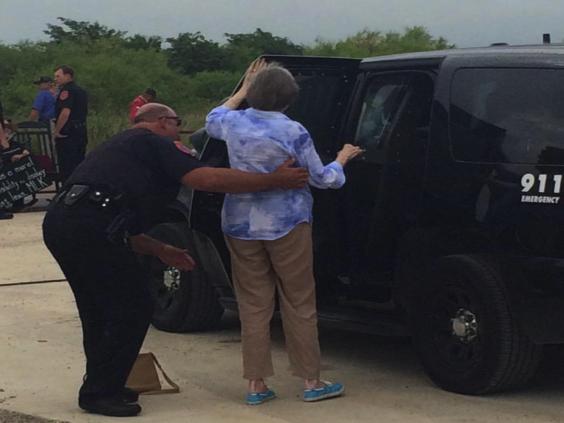 Mrs Palmer said she was opposed to the fracking as she feared the risk of pollution.
"There is a 13-year-old girl who comes to the site. She smells it every day, she hears the noise every day, and now she says it's getting into their drinking water," she said. "If she was the only person in the US who was affected, I would be against it."
The Palmers are the latest of more than a half-dozen arrests in June for protesters trying to block drilling activity at the Vantage site, the first fracking site in town since HB40 passed.
"To imply that the expertise to regulate oil and gas resides only within the confines of Austin, is a condescending slap at the intelligence and due diligence of our local citizenry," Mrs Palmer's son, Theron, said in a statement.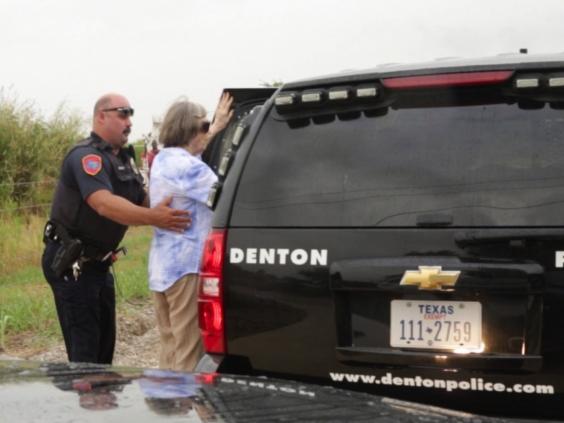 "We clearly expressed our community standards, now nullified and replaced by the very narrow interests of those economic elites who dominate oil and gas development and hence the Texas legislature."
Officer Ryan Grelle, a spokesman for the Denton Police Department, confirmed that Mr Palmer had been charged, while his mother had not. "There was no bond and no charges" he said. "But that doesn't mean they could be brought in the future."
There was no immediate response to inquiries from Vantage Energy.
The Star-Telegram newspaper reported that on Wednesday morning, Denton City Council voted 6-1 to repeal the anti-fracking legislation, that had been supported by more than 60 per cent of voters.
The council said repealing the ban was "in the overall interest of the Denton taxpayers to strategically repeal the ordinance," a statement said.
It added: "Doing so not only potentially reduces ongoing court costs and attorneys fees related to ongoing litigation but also significantly mitigates problems and perceptions associated with operational discrepancies between the ban ordinance and newly-adopted state law."
Mrs Palmer said she would no longer be protesting at the site, despite her anger with what has happened. She said: " I have my limitations and I know it."