Activists angered by the closing of water accounts for thousands of people behind in their payments have taken their fight to the United Nations.
In March, the Detroit Water and Sewerage Department (DWSD) announced that it would start cutting off the services of homes, schools and businesses that were at least 60 days overdue or more than $150 behind.
It said it wanted to start recouping $118million owed from unpaid bills and that a fierce approach was needed to coax money from delinquent accounts, which make up almost half of the city's total.
The move, in which as many as 3,000 properties were expected to be cut off each week, has outraged campaigners.
The Blue Planet Project, an organisation promoting access to clean water, last week submitted a critical report to Catarina de Albuquerque, the UN's Special Rapporteur on its resolution for the right to safe drinking water and sanitation.
In its letter to the UN, campaigners denounce officials in the bankrupt city for apparently eyeing up privatisation opportunities as part of a "savage austerity regime," while also calling on the city to abandon the measures.
In pictures: Detroit goes bust
In pictures: Detroit goes bust
1/12 Detroit

The General Motors (GM) world headquarters is seen, nearby is a a dilapidated house

Getty Images

2/12 Detroit

Outsource to Detroit banner from Galaxe.Solutions is seen on a Detroit building

AP

3/12 Detroit

A person walks past the remains of the Packard Motor Car Company, which ceased production in the late 1950s in Detroit

Getty Images

4/12 Detroit

A fire hydrant is seen with an "Out of Service" sign on a blighted street on the east side of Detroit, Michigan

Reuters

5/12 Detroit

A banner on a building in downtown Detroit, Michigan. Detroit filed for Chapter 9 bankruptcy, making it the largest city to file for bankruptcy in U.S. history

Getty Images

6/12 Detroit

Broken windows are seen inside the abandoned and decaying manufacturing plant of Packard Motor Car in Detroit, Michigan

Reuters

7/12 Detroit

Houses along Detroit streets have become derelict abandoned in what was once a thriving middle class area

Getty Images

8/12 Detroit

Ilegally dumped tires sit in front of a vacant, blighted home in a once thriving neighborhood on the east side of Detroit

Reuters

9/12 Detroit

A burnt out abandoned apartment building

Reuters

10/12 Detroit

Ghost town: Detroit's decline has been profound, but there are signs the city is picking itself up again

Getty Images

11/12 Detroit

A derelict house in Detroit

Rex Features

12/12 Detroit

Abandoned Michigan Central Station in the outskirts of Detroit

Reuters
The group, in cooperation with the Detroit People's Water Board and the Michigan Welfare Rights Organisation (MWRO), says that it "fears that authorities see people's unpaid water bills as a 'bad debt' and want to sweeten the pot for a private investor by imposing even more of the costs of the system on those least able to bear them."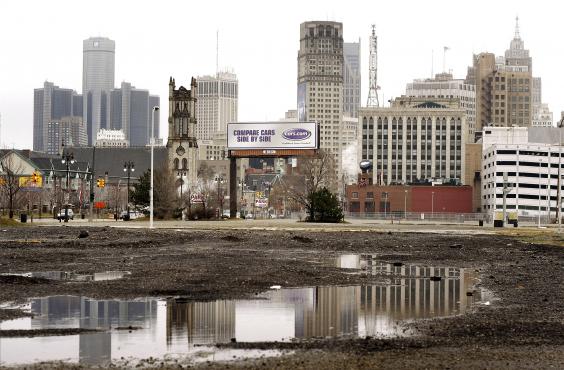 The activists say that some of those affected were given no time to prepare for cut offs and that in some cases accounts had been suspended before the deadline for payment had passed.
"Sick people have been left without running water and working toilets. People recovering from surgery cannot wash and change bandages. Children cannot bathe and parents cannot cook," the letter pleads, as it estimates that as many as 30,000 households will be subject to the move by the end of summer.
The cut offs come as part of a further money-generating scheme by the Detroit City Council , which announced earlier this month that it is expected to hike water bills by more than $5 per month – an increase of 8.7 per cent.
Officials say that the cash is needed to provide repairs to the ageing water system, the Detroit Free Press reported, as well as plug the gap that unpaid bills have left.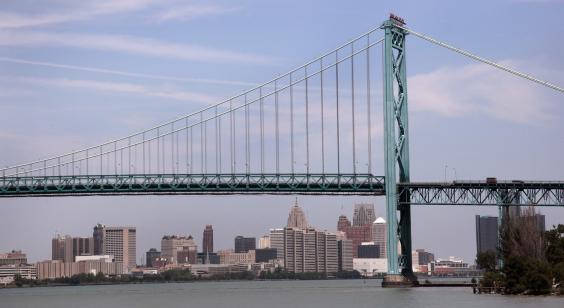 "The case of water cut-offs in the City of Detroit speaks to the deep racial divides and intractable economic and social inequality in access to services within the United States.
"The burden of paying for city services has fallen onto the residents who have stayed within the economically depressed city, most of whom are African-American. These residents have seen water rates rise by 119 per cent within the last decade.
"With official, understated unemployment rates at a record high and the official, understated poverty rate at about 40 per cent, Detroit water bills are unaffordable to a significant portion of the population," the letter states.
The group has also called for fair water rates and for the State of Michigan and the US government to respect "the human right to water and sanitation."
The Independent has contacted Catarina de Albuquerque for comment.
"We really don't want to shut off anyone's water, but it's really our duty to go after those who don't pay, because if they don't pay then our other customers pay for them," DWSD spokeswoman, Curtrise Garner, told Al Jazeera. "That's not fair to our other customers."
Reuse content