A Detroit man who shot a young woman pounding on the door of his house in the middle of the night last November has been found guilty of second degree murder and manslaughter after a jury rejected his claim that he was acting in self-defence.
Theodore Wafer, 55, an airport maintenance worker, had insisted that he had been afraid for his life when at 4.30am on 2 November he heard "unbelievable" banging. Alone in the house with no landline and unable to find his cell phone to call for help he reached into a cupboard for his shotgun, opened the main door and then fired through a screen door at the intruder he couldn't see. That was 19-year-old Renisha McBride, who was killed instantly.
The case had riveted all of Detroit because of the racial overtones. Ms McBride was black and Mr Wafer is white. Some likened it to the case of Trayvon Martin, the African-American teen killed in a housing community in Florida by George Zimmerman, a white Hispanic man. He was acquitted at trial after similarly arguing self-defence.
There was mystery also as to how Ms McBride came to be at Wafer's bungalow home in the first place. After an evening of drinking with a friend, she had crashed her car into another vehicle and fled the scene on foot. She showed up at the house some distance away hours later. Why she chose that property, nobody knows.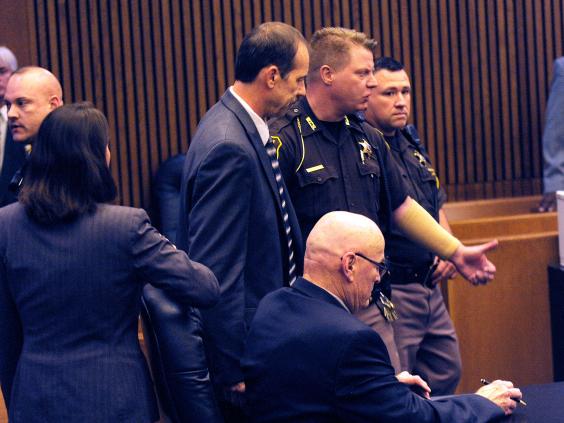 "She just wanted to go home," prosecutor Patrick Muscat said during closing arguments, showing Wafer's shotgun to the jury. "She ended up in the morgue with bullets in her head and in her brain because the defendant picked up this shotgun, released this safety, raised it at her, pulled the trigger and blew her face off."
The legal notion that exists in some 22 American states that a person can shoot and kill someone else if they genuinely believe that their life is under threat remains deeply controversial. While such a law is on the statute books in Michigan, the jury evidently did not agree that the standard was met in this case.
"We are obviously very pleased with the jury verdict and feel that justice was served today," Kym Worthy, the Wayne County prosecutor, said in a statement. "We sincerely hope that this brings some comfort to the family of Renisha McBride."
Her father, Walter Simmon, spoke briefly to reporters after the verdicts were read. "He was a cold-blooded killer," he said. "People have a right to bear arms, but you need to do it with reason and responsibility."
The judge sent Wafer to jail without bail pending sentencing. He could in theory face a sentence of life in prison with the possibility of parole, however a more lenient sentence was considered more likely.