A United Nations official has warned that the city of Detroit, if found to be cutting off the water services of people too poor to pay them, could be violating its human rights obligations.
Catarina de Albuquerque, the UN Special Rapporteur on the right to safe drinking water and sanitation, told The Independent that the water department should only be disconnecting the accounts of those who can pay but are unwilling to.
Despite receiving information from non-government organisations concerning the on-going situation, Ms de Albuquerque said she would need to know more before commenting specifically on Detroit, but that generally, water firms should be making adequate checks to ensure that each householder can pay but are refusing to, before they're cut off.
"Disconnection of services for lack of means to pay may constitute a violation of the right to water," she said.
"Disconnection due to non-payment is only permissible if it can be shown that the householder is able to pay but is not paying – in other words, that the tariff is affordable."
Detroit Water and Sewerage Department (DWSD) has come under fire for shutting off the water to at least 150,000 customers who owe more than $150 or whose bills have lapsed more than 60 days.
Campaigners, however, say that water bills are not priced fairly: "In order to make the utility attractive to investors, lower-income households are being forced to pay exorbitant rates for their water," The Blue Planet Project says in a petition on its website.
More: Detroit has cut off the water supply to thousands of residents
It is argued by activists that the cut-offs are effecting the poorest and sick the hardest, as well as becoming a risk to public health. They have sent a plea to Ms de Albuquerque for UN help, stating that adequate provisions were not given to some residents and that the bills are "unaffordable to a signifcant portion of the population."
They also claim that city officials are preparing the balance sheets ready for privatisation at the expense of poor residents, without the water company "collecting on the arrears of business users, fixing leaking pipes, and cutting off services to abandoned homes."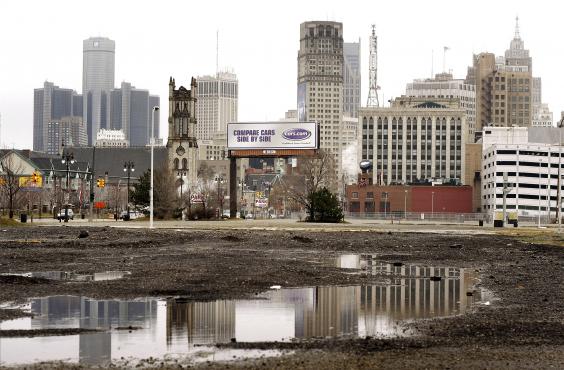 DWSD disagrees, saying that of those who do receive shut off notices, only a small percent are actually cut off. It also said that many of the properties are "vacant structures, not occupied homes."
Defending its position, the department said: "The DWSD is working closely with its customers in Detroit who are delinquent in their payments to prevent avoidable water shut offs. 
"The department currently has more than 17,000 Detroit customers enrolled into a successful payment plan program that is designed to fit each customer's financial situation and ability to pay. 
"Next month, the DWSD also plans to launch a new financial assistance program for the city's indigent population."
It was revealed last week that Detroit residents will have their bills hiked by 8.7 per cent to an average of $70.67 (£41.50) a month.
"The affordability of water and sanitation services is an aspect of human rights, so there is a need to assess whether the reason for any non-payment is a genuine inability to pay or an unwillingness to pay; the impact of any disconnections for non-payment must be examined to make sure the action is necessary and proportionate," Ms de Albuquerque added.
"If water service supplies are disconnected due to non-payment and this has been proven to be due to an inability to pay, there is an immediate obligation to ensure that the individual or household is immediately reconnected."
De Albuquerque is the first Special Rapporteur on this theme, appointed by the Human Rights Council in 2008.
She in enlisted to provide recommendations to governments and other stakeholders.
Following an official mission to the US in 2011, she implored the US government to "adopt a federal standard to provide protection against water shut-offs for vulnerable groups and people living in poverty and due process guarantees in relation to water shut-offs."
In the UK, domestic water customers are protected by law in the access to water, with companies unable to disconnect or restrict water supply.
Thames Water said: "We don't cut off a customer's water supply if they're having trouble paying their bill. We can't and we wouldn't. We try to help and support them."
Reuse content