Disgraced LA Clippers owner Donald Sterling can't catch a break.
After being caught on tape making racist remarks and losing his NBA franchise to Microsoft's former chief executive, Steve Ballmer, the 80-year old is now being sued by a former assistant for alleged sexual harassment and racial discrimination.
Maiko Maya King, who claims to have had a romantic relationship with Sterling from 2005 to 2011, filed a lawsuit on Monday in Los Angeles alleging the former LA Clippers owner offered her money for sex and withheld her wage when she refused to satisfy his sexual demands.
According to King, he also made a series of racist remarks about her ex-husband, who is black, and her children, including "Black people do not take care of their children. All they do is sit at home and smoke dope" and "Why would you bring black people into the world?"
The lawsuit also alleges Sterling told her he wanted to take her "out of a black world" to put her in "a white world" and also asked her to "move back to the ghetto with a black man" following an argument.
Sterling allegedly fired her when she protested against his comments. King is seeking financial compensation and claims she continues to suffer mental pain as a result of Sterling's conduct.
An attorney representing Sterling, Bobby Samini, rejected the claims, telling the Los Angeles Times: "Anyone objectively reviewing Ms. King's claims will have no doubt that they are without merit."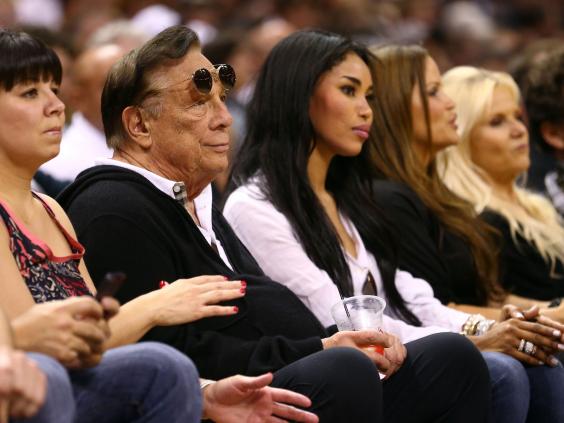 On Friday, Shelly Sterling said in a statement that she had signed a binding contract for a sale of the Clippers to Steve Ballmer in what would be a record $2 billion deal if approved by the NBA.
Ms Sterling negotiated the sale after her estranged husband sparked outrage in the US after being caught on tape making racist comments that were made public by gossip website TMZ in April.
The remarks included Sterling telling girlfriend V Stiviano not to bring African Americans to Clippers games, specifically mentioning Magic Johnson, or post photographs on her Instagram account "associating herself" with black people.
"You can sleep with [black people]. You can bring them in, you can do whatever you want. The little I ask you is not to promote it… and not to bring them to my games," he could be heard saying.
The sports mogul has been banned from the NBA for life and will have to pay a $2.5 million fine, the most severe punishment ever handed down to a team owner, for his "offensive and harmful" remarks.
In response, Sterling is also suing the NBA for $2 billion in damages for relying on what he claims is an "illegal" recording, which violates his constitutional rights, as well as breach of contract and anti-trust laws by forcing a sale.