Hundreds of Mexicans have celebrated Easter by burning effigies of Donald Trump, after the of US presidential candidate's pledge to build a wall between the two counties sparked outrage in Mexico.
In La Merced, Mexico City, residents yelled "death" and other insults as a giant papier-mâché Trump, sporting a blue suit and his famous tuft of blonde hair, was set alight with exploding fireworks on Saturday evening.
Trump effigies were burnt across the city from the highland area of Puebla to Mexico's industrial hub of Monterrey, according to local media.
Effigies are burnt during Mexican Holy Week to represent Judas Iscariot, who betrayed Jesus Christ according to the Bible. The effigies are often modelled on unpopular politicians.
Felipe Linares, the artist who made the Trump model, said: "Since he started his campaign and began talking about immigrants, Mexico, and Mexicans, I said I've got to get this guy."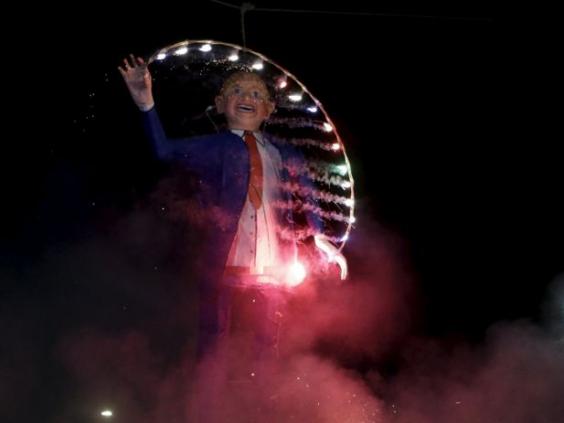 Trump sparked outrage among Mexicans after pledging to build a "great, great wall" between Mexico and the US if he wins the race to the White House – a construction, which he said, would be funded by Mexico.
The billionaire entrepreneur claimed the wall was needed because Mexico is "sending people that have lots of problems, and they are bringing those problems to us".
"They are bringing drugs and bringing crime and they're rapists," he added in a speech to supporters last year.
Mexican President Enrique Pena Nieto has said his country will not pay for the wall, while former President Vicente Fox compared the business tycoon to Hitler.
Donald Trump's most controversial quotes
Donald Trump's most controversial quotes
1/14 On Isis:

"Some of the candidates, they went in and didn't know the air conditioner didn't work and sweated like dogs, and they didn't know the room was too big because they didn't have anybody there. How are they going to beat ISIS?"

Getty

2/14 On immigration:

"I will build a great wall — and nobody builds walls better than me, believe me —and I'll build them very inexpensively. I will build a great, great wall on our southern border, and I will make Mexico pay for that wall. Mark my words."

Reuters

3/14 On Free Trade:

"Free trade is terrible. Free trade can be wonderful if you have smart people. But we have stupid people."

PAUL J. RICHARDS | AFP | Getty Images

4/14 On Mexicans:

"When Mexico sends its people, they're not sending their best. They're sending people that have lots of problems. They're bringing drugs. They're bringing crime. They're rapists."

Getty

5/14 On China:

"I just sold an apartment for $15 million to somebody from China. Am I supposed to dislike them?... I love China. The biggest bank in the world is from China. You know where their United States headquarters is located? In this building, in Trump Tower."

Getty Images

6/14 On work:

"If you're interested in 'balancing' work and pleasure, stop trying to balance them. Instead make your work more pleasurable."

AP

7/14 On success:

"What separates the winners from the losers is how a person reacts to each new twist of fate."

8/14 On life:

"Everything in life is luck."

AFP

9/14 On ambition:

"You have to think anyway, so why not think big?"

Getty Images

10/14 On his opponents:

"Bush is totally in favour of Common Core. I don't see how he can possibly get the nomination. He's weak on immigration. He's in favour of Common Core. How the hell can you vote for this guy? You just can't do it."

Reuters

11/14 On Obamacare:

"You have to be hit by a tractor, literally, a tractor, to use it, because the deductibles are so high. It's virtually useless. And remember the $5 billion web site?... I have so many web sites, I have them all over the place. I hire people, they do a web site. It costs me $3."

Getty Images

12/14 On Barack Obama:

"Obama is going to be out playing golf. He might be on one of my courses. I would invite him. I have the best courses in the world. I have one right next to the White House."

PA

13/14 On himself:

"Love him or hate him, Trump is a man who is certain about what he wants and sets out to get it, no holds barred. Women find his power almost as much of a turn-on as his money."

Getty Images

14/14 On America:

"The American Dream is dead. But if I get elected president I will bring it back bigger and better and stronger than ever before and we will make America great again."

GETTY
Trump's anti-Mexican immigration rhetoric has led Mexico City's lawmakers to urge the federal government to take action to ban Trump after they unanimously voted to stop him entering the country.
Judas effigies are burnt by local people in several Latin American countries, and anthropologists say the practice serves to unite communities around a common enemy.
In addition to Trump, effigies of Joaquin "El Chapo" Guzman, the notorious drug cartel leader who escaped from a high security and was recaptured in January, and an Isis symbol were also burnt during the celebrations, CNN reports. 
Additional reporting by Reuters