Donald Trump has boasted of using tax laws "brilliantly" to pay as little as possible following a blistering attack by Hillary Clinton.
Addressing cheering supporters in Colorado, the Republican candidate boasted of his supposed prowess and called taxation "unfair".
Mr Trump said: "As a businessman and real estate developer, I have legally used the tax laws to my benefit and to the benefit of my company, my investors and my employees.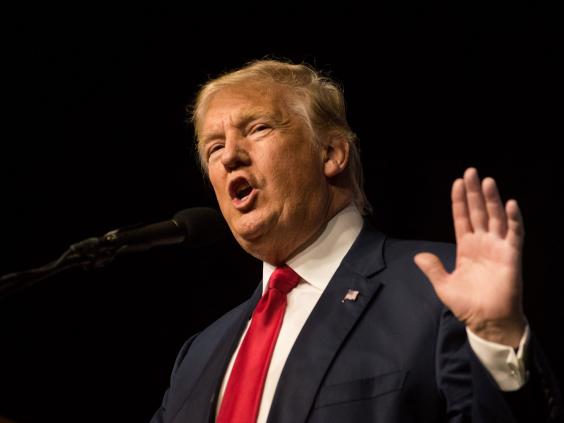 "Honestly, I have brilliantly used those laws…I have a responsibility to pay as little tax as legally possible."
"The unfairness of the tax laws is unbelievable," he added. "It's something I've been talking about for a long time, despite, frankly, being a big beneficiary of the laws.
"But I'm working for you now. I'm not working for Trump."
He acknowledged business failures as well as successes but declared: "I'm still here." 
Ms Clinton raised the Republican's tax history at a debate on Monday and called for him to release his returns, as well as a new law to force transparency for presidential candidate who refuse.
Donald Trump's most controversial quotes
Donald Trump's most controversial quotes
1/14 On Isis:

"Some of the candidates, they went in and didn't know the air conditioner didn't work and sweated like dogs, and they didn't know the room was too big because they didn't have anybody there. How are they going to beat ISIS?"

Getty

2/14 On immigration:

"I will build a great wall — and nobody builds walls better than me, believe me —and I'll build them very inexpensively. I will build a great, great wall on our southern border, and I will make Mexico pay for that wall. Mark my words."

Reuters

3/14 On Free Trade:

"Free trade is terrible. Free trade can be wonderful if you have smart people. But we have stupid people."

PAUL J. RICHARDS | AFP | Getty Images

4/14 On Mexicans:

"When Mexico sends its people, they're not sending their best. They're sending people that have lots of problems. They're bringing drugs. They're bringing crime. They're rapists."

Getty

5/14 On China:

"I just sold an apartment for $15 million to somebody from China. Am I supposed to dislike them?... I love China. The biggest bank in the world is from China. You know where their United States headquarters is located? In this building, in Trump Tower."

Getty Images

6/14 On work:

"If you're interested in 'balancing' work and pleasure, stop trying to balance them. Instead make your work more pleasurable."

AP

7/14 On success:

"What separates the winners from the losers is how a person reacts to each new twist of fate."

8/14 On life:

"Everything in life is luck."

AFP

9/14 On ambition:

"You have to think anyway, so why not think big?"

Getty Images

10/14 On his opponents:

"Bush is totally in favour of Common Core. I don't see how he can possibly get the nomination. He's weak on immigration. He's in favour of Common Core. How the hell can you vote for this guy? You just can't do it."

Reuters

11/14 On Obamacare:

"You have to be hit by a tractor, literally, a tractor, to use it, because the deductibles are so high. It's virtually useless. And remember the $5 billion web site?... I have so many web sites, I have them all over the place. I hire people, they do a web site. It costs me $3."

Getty Images

12/14 On Barack Obama:

"Obama is going to be out playing golf. He might be on one of my courses. I would invite him. I have the best courses in the world. I have one right next to the White House."

PA

13/14 On himself:

"Love him or hate him, Trump is a man who is certain about what he wants and sets out to get it, no holds barred. Women find his power almost as much of a turn-on as his money."

Getty Images

14/14 On America:

"The American Dream is dead. But if I get elected president I will bring it back bigger and better and stronger than ever before and we will make America great again."

GETTY
Documents leaked to the New York Times showed Mr Trump claimed a loss of nearly $916 million (£717 million) in his 1995 tax return - a move analysts said could have allowed him to avoid federal taxes for nearly two decades.
As Mr Trump's supporters branded him a "genius" and pointed out similar methods in Ms Clinton's 2015 tax return, his Democrat rival continued her attacks on the campaign trail.
"He's taken corporate excess and made a business model out of it," she said. "It's Trump first and everyone else last." 
The debate comes during a troubled time for the Trump campaign, with former cast and crew members from the US version of The Apprentice hitting out at his alleged treatment of women on set. 
On Monday, the New York attorney general's office ordered the Republican candidate's Trump Foundation to immediately stop fundraising in the state, saying it isn't registered to do so.