Donald Trump's personal wealth has declined by approximately $800m since he began his presidential campaign - in which he has repeatedly boasted about how rich he is.
Business magazine Forbes has revised the Republican nominee's wealth estimate down to $3.7bn (£2.8bn) down from $4.5bn last year.
The decline in his fortune has been put down to the worsening of conditions in the New York property market 
Several of his primary assets, including Trump Tower in Manhattan and Mar-a-Lago in Palm Beach, Florida, have declined in value compared with the previous year.
But Forbes also estimates that he has lost approximately $100m in lost deals with companies such as NBCUniversal, Univision and Macy's over his controversial comments on the campaign trail.
Spanish language TV network Univision announced it would cancelled its broadcast of the Miss USA pageant - which is owned by Mr Trump - in July 2015 after Mr Trump called Mexican immigrants "criminals and rapists".
He said he would build a wall to keep them out of the US and make Mexico pay.
Mr Trump later settled a lawsuit with Univision for an undisclosed amount in February this year.
US election 2016: the race for the White House in pictures
US election 2016: the race for the White House in pictures
1/12

Republican U.S. presidential nominee Donald Trump shakes hands with Democratic U.S. presidential nominee Hillary Clinton at the conclusion of their first presidential debate at Hofstra University in Hempstead, New York

Reuters

2/12

President Barack Obama embraces Democratic nominee Hillary Clinton on stage at the party's convention in Philadelphia

3/12

Donald Trump's wife Melania delivered a speech at the GOP convention in Cleveland that was later found to have been cribbed in part from Michelle Obama's 2008 convention address

AP

4/12

Hillary Clinton talks to reporters aboard her new campaign plane on Labour Day, 5 September, her first 'press conference' since 2015

(Getty Images)

5/12

Donald Trump held a joint press conference with Mexican leader Enrique Pena Nieto in Mexico City in August, hours before reiterating his harsh immigration plans at a campaign rally in Arizona

Reuters

6/12

Bernie Sanders officially endorsed Hillary Clinton, saying his progressive vision for 'a transformed America' would be 'best served by the defeat of Donald Trump'

Reuters

7/12

Khizr and Gazala Khan appeared at the DNC to slam Trump for his stance on Muslim immigration, citing the case of their son Humayun Khan, who was killed in combat while serving as a Captain in the US Army in Iraq

8/12

Libertarian candidate Gary Johnson is doing better in polls than any third party candidate since Ross Perot, 20 years ago

Nicholas Kamm/AFP/Getty

9/12

Green Party candidate Jill Stein (centre) marches with supporters in Colorado

AP

10/12

Hillary Clinton and Virginia Senator Tim Kaine at a rally in Kaine's home state in July, days before Ms Clinton tapped him to be her running mate

Getty

11/12

Trump on the campaign trail with his vice presidential pick, Indiana governor Mike Pence

AP

12/12

Former Ukip leader Nigel Farage appears at a Trump rally in Mississippi in August, where he told the crowd that he 'wouldn't vote for Hillary Clinton if you paid me'.
The presidential candidate is also estimated to have spent a further $50m on his own campaign. 
Last year, Mr Trump said the "beauty" of his candidacy is that he was very rich and could finance his own campaign without relying on establishment donors like his rival, Democratic nominee Hillary Clinton. 
Indeed, Mr Trump has struggled to bring in major donors at the same pace as Ms Clinton.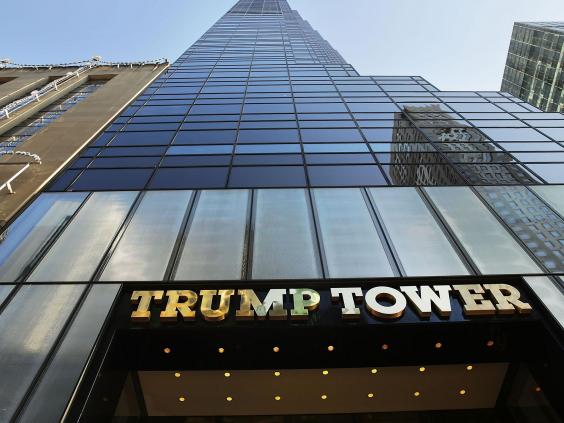 In August, Ms Clinton raised $143m from donors for her presidential bid compared with just $90m for Mr Trump. 
Mr Trump, who once claimed he was worth $10bn, is notoriously precious about disclosing his earnings. 
He is so far the first major party presidential candidate since Gerald Ford not to publish his tax return.
In contrast Ms Clinton and her husband declared that they had earned a reported $10.6m in income and paid $3.6m in federal income tax in 2015. 
Forbes has also claimed that no other mogul featured on their annual rich list has been "more fixated on his or her net worth estimate on a year-in, year-out basis than Donald J Trump".
The magazine said that other billionaires on the list tended to complain that the estimate was too high rather than too low.
When Forbes estimated his at $4.5bn last year he complained: "I'm running for President. I'm worth much more than you have me down [for]. 
"I don't look good, to be honest. I mean, I look better if I'm worth $10 billion than if I'm worth $4 billion."
Reuse content