Mexico's former President Vicente Fox has compared Donald Trump to Adolf Hitler.
Mr Fox, who has several times criticised Mr Trump over the Republican presidential frontrunner's comments about Mexico and its citizens, was speaking to CNN's Anderson Cooper.
"He's going to take that nation [the US] back to the old days of, uh, conflict, war and everything," Mr Fox said in a phone interview, referring to Trump.
"I mean, he reminds me of Hitler. That's the way he started speaking."
In an earlier interview Mr Fox, who was President of Mexico from 2000 to 2006, slammed Mr Trump's proposal that Mexico should be made to pay for a wall running along the Mexico-US border, saying "I'm not going to pay for that f***ing wall".
He told Anderson Cooper he would not apologise for his comments.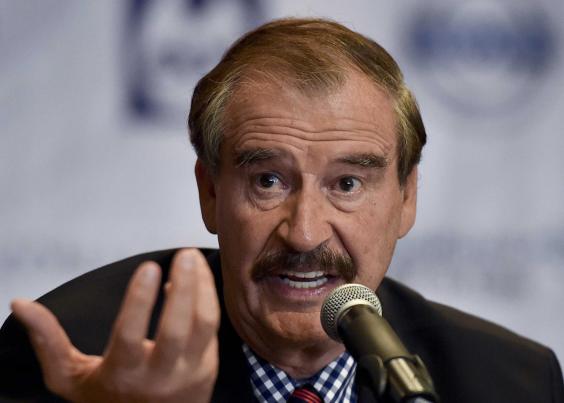 Mr Trump's incendiary rhetoric on Mexico has alienated many Latinos.
In a speech last year he told supporters that Mexico was "sending people that have lots of problems" to the US.
"They are bringing drugs, and bringing crime, and their rapists," he said, earning him the label an "extremely silly man" from Hispanic civil rights group the National Council of La Raza.
Others, like Mr Fox, have used stronger language to describe the business mogul, who has racked up a number of comparisons to the German dictator.
Last month Eva Schloss, step-sister of Anne Frank, accused Mr Trump of "acting like another Hitler".
Reuse content