Footage has emerged showing a young black woman and other protesters being shoved and shouted at by a crowd of Donald Trump supporters during a Super Tuesday rally in Kentucky.
The Republican Presidential candidate stopped his speech in Louisville several times as several groups of demonstrators were removed.
"Get out of here," he said, before repeatedly shouting "out, out, out" as a black woman was pulled through the crowd.
She was shoved by several Trump supporters and could be seen saying "stop pushing me", as she was jostled by a group of men shouting and gesturing aggressively in her face.
Shaun King, a New York Daily News journalist, reported that some of the men seen in the footage were neo-Nazis and members of the far-right Traditionalist Worker Party.
"Police looked on as she was shoved," he wrote on Twitter.
The struggle was captured by WLKY News, which contacted the young woman on Tuesday evening. She told reporters she was well but "just trying to process everything".
Similar scenes were repeated several times during the course of the rally at the Kentucky International Convention Center, where former New Jersey Governor Chris Christie had introduced Mr Trump as "the next President of the United States".
"Oh look what we have here, some wonderful people, aww," Mr Trump said as another group of white student protesters were removed. "Get out of here, get out, get out."
"Don't hurt him," he added as another young man was pushed through the packed auditorium by a secret service agent, being pushed and shouted at by members of the crowd.
Donald Trump's most controversial quotes
Donald Trump's most controversial quotes
1/14 On Isis:

"Some of the candidates, they went in and didn't know the air conditioner didn't work and sweated like dogs, and they didn't know the room was too big because they didn't have anybody there. How are they going to beat ISIS?"

Getty

2/14 On immigration:

"I will build a great wall — and nobody builds walls better than me, believe me —and I'll build them very inexpensively. I will build a great, great wall on our southern border, and I will make Mexico pay for that wall. Mark my words."

Reuters

3/14 On Free Trade:

"Free trade is terrible. Free trade can be wonderful if you have smart people. But we have stupid people."

PAUL J. RICHARDS | AFP | Getty Images

4/14 On Mexicans:

"When Mexico sends its people, they're not sending their best. They're sending people that have lots of problems. They're bringing drugs. They're bringing crime. They're rapists."

Getty

5/14 On China:

"I just sold an apartment for $15 million to somebody from China. Am I supposed to dislike them?... I love China. The biggest bank in the world is from China. You know where their United States headquarters is located? In this building, in Trump Tower."

Getty Images

6/14 On work:

"If you're interested in 'balancing' work and pleasure, stop trying to balance them. Instead make your work more pleasurable."

AP

7/14 On success:

"What separates the winners from the losers is how a person reacts to each new twist of fate."

8/14 On life:

"Everything in life is luck."

AFP

9/14 On ambition:

"You have to think anyway, so why not think big?"

Getty Images

10/14 On his opponents:

"Bush is totally in favour of Common Core. I don't see how he can possibly get the nomination. He's weak on immigration. He's in favour of Common Core. How the hell can you vote for this guy? You just can't do it."

Reuters

11/14 On Obamacare:

"You have to be hit by a tractor, literally, a tractor, to use it, because the deductibles are so high. It's virtually useless. And remember the $5 billion web site?... I have so many web sites, I have them all over the place. I hire people, they do a web site. It costs me $3."

Getty Images

12/14 On Barack Obama:

"Obama is going to be out playing golf. He might be on one of my courses. I would invite him. I have the best courses in the world. I have one right next to the White House."

PA

13/14 On himself:

"Love him or hate him, Trump is a man who is certain about what he wants and sets out to get it, no holds barred. Women find his power almost as much of a turn-on as his money."

Getty Images

14/14 On America:

"The American Dream is dead. But if I get elected president I will bring it back bigger and better and stronger than ever before and we will make America great again."

GETTY
"See, if I say go get him, I get in trouble with the press – the most dishonest human beings in the world."
The Kentucky Kernel, the University of Kentucky student newspaper, said Black Lives Matter protesters, as well as supporters of Mrs Clinton and her fellow Democratic candidate Bernie Sanders were among those ejected from the event.
The footage provoked a new wave of outrage following another day of controversy on Monday, when black demonstrators were thrown out of two Trump rallies at universities in Virginia and Georgia.
They chanted "No more hate! No more hate! Let's be equal, let's be great!" before being led out.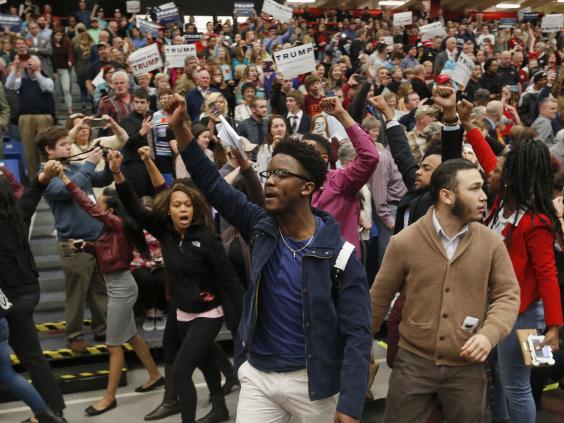 The demonstrations come as a furore continues to rage over his failure to condemn the Ku Klux Klan on CNN. 
But the successive waves of controversy did not stop Mr Trump taking an important lead on Super Tuesday, the most important day in months of US primaries to select Republican and Democrat Presidential candidates.
Both he and Hillary Clinton won at least seven of the 11 states voting, putting them far ahead of their nearest rivals.
The result increased the likelihood of a Trump-Clinton showdown in the November election, offering voters what would likely be the starkest contrast in presidential candidates seen for many years. 
Reuse content