Over the weekend, President Obama weighed in on one of the pressing issues in the campaign for the Republican nomination to succeed him in the White House.
No, not how to stop Donald Trump — but whether the wine that bears his name is any good. "Has anybody bought that wine? I want to know what that wine tastes like," Obama said at a fundraiser in Dallas on Saturday. "I mean, come on. You know that's like some $5 wine. They slap a label on it. They charge you $50 and say it's the greatest wine ever."
As those of us who live near Trump's vineyards know, though, the real shame about Trump Winery is not that its wines are not good – it's that some of them actually are. But these days, their association with the GOP frontrunner is likely to keep them off the wine lists on which they otherwise belong.
Donald Trump's most controversial quotes
Donald Trump's most controversial quotes
1/14 On Isis:

"Some of the candidates, they went in and didn't know the air conditioner didn't work and sweated like dogs, and they didn't know the room was too big because they didn't have anybody there. How are they going to beat ISIS?"

Getty

2/14 On immigration:

"I will build a great wall — and nobody builds walls better than me, believe me —and I'll build them very inexpensively. I will build a great, great wall on our southern border, and I will make Mexico pay for that wall. Mark my words."

Reuters

3/14 On Free Trade:

"Free trade is terrible. Free trade can be wonderful if you have smart people. But we have stupid people."

PAUL J. RICHARDS | AFP | Getty Images

4/14 On Mexicans:

"When Mexico sends its people, they're not sending their best. They're sending people that have lots of problems. They're bringing drugs. They're bringing crime. They're rapists."

Getty

5/14 On China:

"I just sold an apartment for $15 million to somebody from China. Am I supposed to dislike them?... I love China. The biggest bank in the world is from China. You know where their United States headquarters is located? In this building, in Trump Tower."

Getty Images

6/14 On work:

"If you're interested in 'balancing' work and pleasure, stop trying to balance them. Instead make your work more pleasurable."

AP

7/14 On success:

"What separates the winners from the losers is how a person reacts to each new twist of fate."

8/14 On life:

"Everything in life is luck."

AFP

9/14 On ambition:

"You have to think anyway, so why not think big?"

Getty Images

10/14 On his opponents:

"Bush is totally in favour of Common Core. I don't see how he can possibly get the nomination. He's weak on immigration. He's in favour of Common Core. How the hell can you vote for this guy? You just can't do it."

Reuters

11/14 On Obamacare:

"You have to be hit by a tractor, literally, a tractor, to use it, because the deductibles are so high. It's virtually useless. And remember the $5 billion web site?... I have so many web sites, I have them all over the place. I hire people, they do a web site. It costs me $3."

Getty Images

12/14 On Barack Obama:

"Obama is going to be out playing golf. He might be on one of my courses. I would invite him. I have the best courses in the world. I have one right next to the White House."

PA

13/14 On himself:

"Love him or hate him, Trump is a man who is certain about what he wants and sets out to get it, no holds barred. Women find his power almost as much of a turn-on as his money."

Getty Images

14/14 On America:

"The American Dream is dead. But if I get elected president I will bring it back bigger and better and stronger than ever before and we will make America great again."

GETTY
I work in the restaurant business in Charlottesville, Virginia, a short distance from the winery and I've made a conscious decision not to carry the Trump brand. While the election might take over your dinner conversation, a welcome table is not one that pours liquid politics down your throat. (For the same reason, if other candidates got into the beverage industry, I wouldn't be serving Clinton Chardonnay or Bernie Beer, either.)
Those Trump wines Obama was joking about, however, have a longer history in this area. In 1999, the first vines went in the ground under the Kluge Estate name and set the tone for what would become Trump Winery in 2011. Under the Kluge label, the vineyard's wines have been served at the White House and even at Chelsea Clinton's wedding rehearsal dinner. Trump's son, Eric, supervises the winery now, and its labels have evolved from "Kluge" to "Trump" to today's all-capital-letters "TRUMP," in a font that evokes US currency.
Trump Winery is one of the few "estate" wineries in the area that focuses on growing its own fruit as opposed to buying it. And it's an operation headed up by a serious vintner, Jonathan Wheeler, who makes a full spectrum of wines: sparkling, white, rosé, red and dessert. He has 200 vineyard acres to play with, and he stands in a key position to influence the direction of the entire region.
It's not the only wine that might prick your interest in a blind tasting, though. The recently bottled 2015 Chardonnay and the Viognier, now available for sale, come from one of the greatest Virginia white wine vintages in recent memory. Wheeler made his Chardonnay in steel and oak, and it's a balanced example of the vintage. The Viognier is a classic example of that varietal, too.
The reds are Bordeaux-style blends, usually based on a majority of Merlot, which does well in Virginia as an early ripener. They are lush, bold reds that have a little bit of ageing potential, but you would mostly want to drink them on release. Wheeler also makes a unique dessert wine from fortified Chardonnay, aged in old Bourbon barrels.
I've been watching and tasting these from a distance for quite some time. On taste alone, there are a few bottlings that I'd like to support, but I'm sure Obama would agree: the intense branding makes the stuff hard to swallow.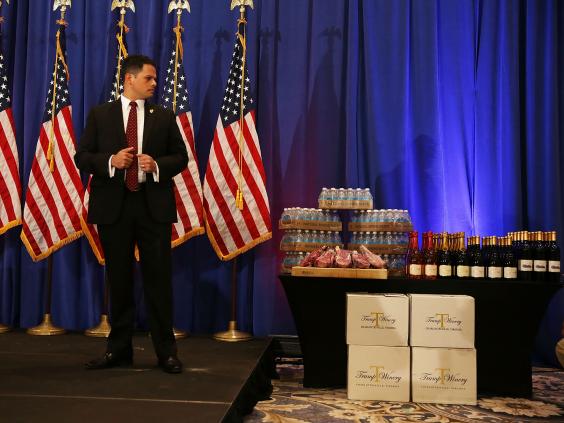 Some of that hesitation predates Trump's involvement in politics. As a general rule, I disdain wine brands. When the strength of a wine's brand eclipses the actual product, the focus goes away from the wine itself, onto the brand and what that brand represents.
Branding is easy, if you know how to do it. Winemaking is hard work and it changes year by year. When a branded winery experiences mass popularity, the wine and the hard work of the winery team become disembodied from the brand, in this case reduced to a side note as the wine's meaning becomes less about terroir and more about Trump.
Does it matter why someone drinks a wine? Is it a shame that much of this carefully grown and made wine will be consumed in symbolic solidarity by fervent supporters of a candidate who, ironically, does not drink alcohol? Will Virginia's special 2015 white wine vintage be appreciated at all in the frenzy of 2016?
Trump Winery is certainly doing fine without my business (several wines are sold out), and I am doing fine without them. But as these wines switch gears from beverage to propaganda, I worry that what could be an important part of our emerging wine legacy will be lost.
A century from now, how will Trump's politics have affected the wine trade? Objectively, I want to appreciate some of these wines. Unfortunately, now that the label talks so loudly, what's in the bottle has lost its voice.
© Washington Post