A grandmother who forced her nine-year-old granddaughter to run for hours until she collapsed and died has been sentenced to spend the rest of her life in prison.
A court in Alabama heard how Joyce Hardin Garrard, 50, acted as the "drill sergeant from hell" towards her granddaughter Savannah Hardin after she lied about eating chocolate.
Prosecutors said an autopsy showed Savannah was severely dehydrated and in the sort of condition you would expect from someone who had run a marathon with no water. She was admitted to hospital following the incident in 2012, but died several days later.
Garrard was convicted of capital murder during her trial in March, after CCTV footage from a school bus showed her discussing the chocolate with bus driver Raenna Holmes and saying: "She's going to run until I tell her to stop."
A jury recommended on Monday by a 7-5 vote that Garrard should be sentenced to life in prison without parole rather than the death penalty by lethal injection.
Outside the courtroom, Johnny Garrard called the decision "plain wrong" and said his wife was innocent: "I know what happened that day. And what they say happened, is not what happened."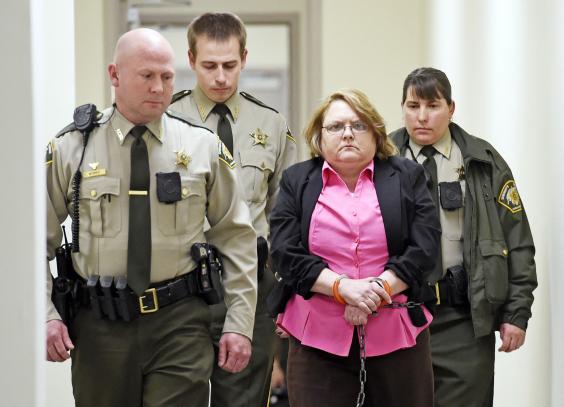 Throughout the trial, Garrard had insisted Savannah came to her because she had come second in a race at school and wanted to be trained to do better.
Defence lawyer Dani Bone said he was pleased the judge and prosecutor agreed to uphold the jury's recommendation of a life sentence, instead of the death penalty.
Deputy District Attorney Marcus Reid had asked jurors to recommend the death penalty following the conviction.
"This case is the only case I know of where the perpetrator forced the victim to participate in her own death," he told jurors. "Joyce Garrard forced Savannah Hardin to help kill herself."
The child's stepmother, Jessica Mae Hardin, is currently on bail charged with murder after allegedly failing to intervene to protect Savannah. The 30-year-old maintains her innocence and is awaiting a separate trial.