The US state of Maine will attempt to legally enforce quarantine on a nurse who treated Ebola patients in West Africa and plans to defy state rules, its governor announced today.
Doctors Without Borders nurse Kaci Hickox, 33, spent the weekend under mandatory quarantine in an outdoor tent at Newark University Hospital after landing at New Jersey's Newark Liberty Airport from Sierra Leone.
On Monday, she was released from New Jersey and moved to her home state of Maine. The state dictates that health care workers who arrive from West Africa must remain under home quarantine with their condition actively monitored for 21 days: the incubation period for Ebola.
Ms Hickox has complained that she has never had Ebola symptoms and tested negative for the virus in a preliminary evaluation. But Maine governor Paul LePage said he was disappointed by Ms Hickox' stance, the same day that US Defence Secretary announced that troops returning from West Africa would be supervised for 21 days.
As Ebola is spread through direct contact with bodily fluids from an infected person, and is not transmitted by asymptomatic people, the virus is not easy to catch.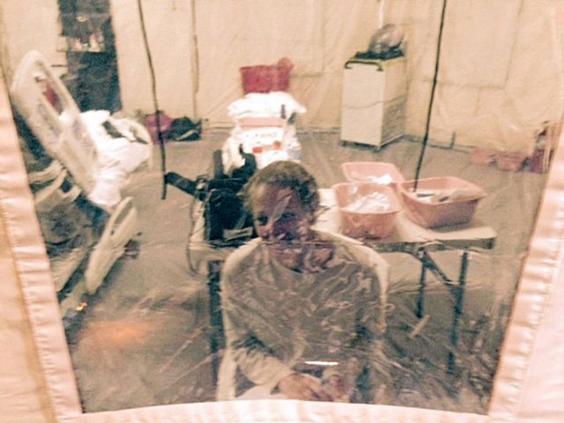 In several media interviews today, Ms Hickox said she was in good health, had not had any symptoms of the virus and claimed the state's policy is "not scientifically or constitutionally just".
Speaking from her home in Fort Kent on the Canadian border, she said she was monitoring her condition and taking her temperature twice a day.
"I don't plan on sticking to the guidelines," Hickox told NBC Today. ''I remain appalled by these home quarantine policies that have been forced upon me even though I am in perfectly good health."
She added that she had no contact with anyone and will have no human contact again today. One of her lawyers told reporters that Hickox hopes to reach an agreement with the state.
But Mr LePage said the state was "concerned" after her safety and that of the community.
"We hoped that the healthcare worker would voluntarily comply with these protocols, but this individual has stated publicly she will not abide by the protocols," LePage said in a statement.
"We are very concerned about her safety and health and that of the community."
He added that police are monitoring Ms Hickox's home in Fort Kent where she is under voluntary quarantine, to ensure her safety and the residents around her.
"While we certainly respect the rights of one individual, we must be vigilant in protecting 1.3 million Mainers, as well as anyone who visits our great state," LePage said.
Lawyers representing Hickox said Maine officials would have to go to court to get an order to enforce a quarantine and that, if the state does, their client would challenge it.
Reuse content