The US has been declared free of Ebola after a New York doctor was scheduled for release from hospital following his recovery, health officials have said.
But while America hailed its victory over the disease and called Dr Craig Spencer a "real hero", charities warned that a staggering one in seven pregnant women will die in childbirth if Ebola continues to spread in west Africa.
Highlighting the difference in fortunes between those in America's biggest city and those at the heart of the disease outbreak, New York mayor Bill de Blasio said Dr Spencer had "come back really strong" after the 33-year-old was treated in a specially-designed isolation unit at Manhattan's Bellevue Hospital, a designated Ebola treatment centre.
Meanwhile, a group of charities said that of the 800,000 women expected to give birth in Sierra Leone, Guinea and Liberia in the next 12 months, up to 120,000 could die because they are denied access to basic emergency care.
The men and women on the frontline against Ebola and other hazards
The men and women on the frontline against Ebola and other hazards
1/6 Linda Dixon, 60, leads research into African swine fever at the Pirbright Institute in Surrey

"For more than 25 years I've been trying to develop a vaccine for the African swine fever virus, which causes death in domestic pigs, and has symptoms quite like Ebola. It came from East Africa in the 1920s and was transmitted to Georgia in 2007 via food from shipping that was fed to pigs. It has now spread to neighbouring countries and this year entered the EU via Poland, Lithuania, Latvia and Estonia. It's difficult to eliminate because it also infects wild boar, which populate large parts of Europe."

David Vintiner

2/6 Simon Woodmore, 45, is a paramedic and operations officer for London Ambulance Service's Hazardous Area Response Team (Hart)

"I have a helmet for all occasions – five in all – as well as an array of outfits, including breathing apparatus and gas-tight suits, respirators and chemical protective suits. My job is to put paramedics where historically they could not have worked. We were born out of the Tokyo subway sarin attack in 1995, and have been running as Hart since 2006. There are 94 of us in London dealing with chemical, biological and radiological incidents, as well as building collapses and floods."

David Vintiner

3/6 Simon Woodmore, paramedic and operations officer

"We've always dealt with contagious diseases and work with the Royal Free Hospital London high-level isolation unit to transfer confirmed cases, which fortunately is rare. A lot of it is communicating with the patient in a caring and compassionate way, which can be difficult when you're in full gear. There is an increased awareness of Ebola, but it's about reinforcing the processes we already have in place. Any personal risk is mitigated by our training and equipment."

David Vintiner

4/6 Benjamin Black, 33, is a specialist registrar in obstetrics and gynaecology for Médecins Sans Frontières (MSF)

"In June I travelled to Sierra Leone, where one in 21 women of reproductive age dies in childbirth. This was my first mission, and the reason I got into medicine. I had my eyes wide open to Ebola; though it was still in its early days and concentrated across the border in Guinea, within days I had my first suspected Ebola cases in maternity. It was happening."

David Vintiner

5/6 Benjamin Black, Médecins Sans Frontières

"You need a healthy amount of fear to be safe, as well as protocol and organisational back-up. The greatest fear then is how long you can keep getting it right. There is also a huge psychological element. I checked my temperature daily, but in a hot, humid country there's a constant feverish feeling anyway. We had scares and one of our national nurses was infected, probably in the community. He sadly died and it had a huge impact on the team."

David Vintiner

6/6 Lisa Jameson, 29, is a National Institute for Health Research doctoral research fellow for Public Health England, based at the Porton Down facility in Wiltshire. She specialises in emerging viruses

"I was in the field watching patients come into the isolation centre next to us, often with their families. Sometimes they'd be walking and talkative, then die that night. It was tough but we were so busy, and being there made it feel like we were making a difference. When I got home after a month, I felt a sense of guilt that I was able to walk away. I'll almost certainly be going back."

David Vintiner
Korto Williams, head of ActionAid in Liberia, said there was now such a stigma surrounding any kind of medical emergency that many women were being left to give birth alone for fear that they might have Ebola.
Her charity is among 13 represented by the Disasters Emergency Committee (DEC) in the UK, which warned that the maternal mortality rate could increase by 20 times to 15 per cent if conditions do not improve in west Africa.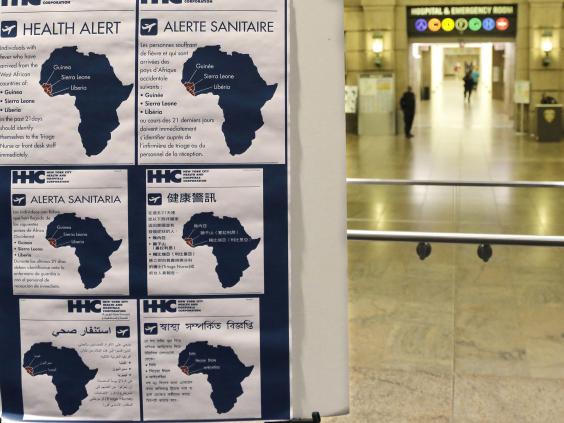 Ms Williams said the "horrendous prediction" of one in seven women dying in childbirth was a "worst case scenario" but added: "We have to do more to ... stop this coming true. We have to ensure that pregnant women get the care they urgently need or we will see the rate of maternal deaths skyrocket."
The world's worst Ebola epidemic, which emerged in Guinea in March, has infected more than 13,000 people and killed almost 5,000 in the three worst-hit countries, according to World Health Organization (WHO) figures. But there is a danger that attention on the disease will wane in the US, now that it does not have to contend with any cases of its own.
New Yorkers were shocked when, towards the end of October, it was revealed that Spencer travelled on the subway, ate out at a busy meatball restaurant and visited a bowling alley in the days before he tested positive for Ebola.
Though the WHO only officially declares countries free of Ebola after 42 days – twice the maximum incubation period for the disease – there are now no active cases in the US. Dr Spencer's fiancee and two friends were initially quarantined but were released and are being monitored along with hundreds of others.
Dr Spencer is expected to issue a statement but not take questions when he's released from the hospital later today. Mayor De Blasio said he had suffered a lot since his diagnosis on 23 October but that he was "a real hero". He said: "I'm sure he's a little weakened from the experience," adding that he is now "very, very healthy".
Reuse content