Police in California have confirmed that the man who murdered six people in a violent rampage on Saturday night was 22-year-old Elliot Rodger – but what they describe as a "chaotic, rapidly unfolding incident" was in fact meticulously planned out in documents and videos published online.
In a rambling 137-page document that is part-memoir, part-manifesto, Rodger described what he calls "My Twisted World", his anger at the women he claims kept him a virgin his whole life and his vow for revenge against the men they chose instead of him.
Rodger, who according to the document was born in the UK and moved to California with his parents at the age of five, also posted a video to YouTube in which he says: "I'll take great pleasure in slaughtering all of you."
Police have confirmed that Rodger's first victims were three men found dead in his apartment. At around 9.30pm he drove to the Alpha Phi sorority, which he had called "the hottest sorority of UCSB" (University of California, Santa Barbara), and fatally shot two women in the grounds outside.
Santa Barbara County Sheriff Bill Brown said that Rodger then drove to a delicatessen in the town of Isla Vista, shooting and killing 20-year-old Christopher Michaels-Martinez. After exchanging fire with police, he apparently shot and killed himself, Sheriff Brown said.
In the so-called manifesto, published online before Rodger's death, it has emerged that the entire rampage was carefully pre-planned – and that the troubled 22-year-old in fact intended to kill a great many more people than he did.
The aftermath of the Santa Barbara shooting
The aftermath of the Santa Barbara shooting
1/10 Elliot Rodgers posing in the car he used during his shooting spree

2/10 Car that Rodgers was driving when he carried out the gun attack

AP

3/10 Scene after Police shot Carter

AP

4/10 Shop where one of the attacks took place

AP

5/10 Mourners lay flowers

6/10 Flowers put through one of the bullet holes

AP

7/10 Ricard Martinez, father of one of the victims, breaks down as he talks to press

AP

8/10 Thousands came together for vigil at the University of California's Santa Barbara campus

AP

9/10 Candles were lit in memory of the victims

EPA

10/10 Students had to comfort each other

AP
Preparing for what he calls "my war", Rodger writes: "Women's rejection of me was a declaration of war.
"I moved to Isla Vista with the goal of losing my virginity and attaining the life I desire. If I'm unable to have it, I will destroy it."
According to the document, Rodger had initially planned to carry out what he called his "Day of Retribution" a month ago, on Saturday 26 April – but delayed it to "Saturday 24 May" after he suffered a cold.
Rodger writes that, when the time comes, he will have to "kill [his] housemates to get them out of the way". He describes how he will "enjoy stabbing them both to death while they slept" because they were not "pleasant to live with".
Describing "phase two" of the massacre, Rodger promises to "attack the very girls who represent everything I hate in the female gender: The hottest sorority of UCSB".
He writes how he will attack "at around 9pm on the Day of Retribution, just before all the partying starts, and slaughter every single one of them with my guns and knives".
Sheriff Brown said on Saturday that the rampage had begun at 9.30pm outside the Alpha Phi building. Rodger had repeatedly banged on the door trying to get in, police said, before he shot at women standing outside.
"After I have killed all of the sorority girls at the Alpha Phi house, I will quickly get into the SUV before the police arrive", Rodger writes. "I will then make my way to Del Playa, splattering as many of my enemies as I can with the SUV and shooting anyone I don't splatter."
Earlier in the document he wrote that: "Isla Vista on weekend nights was always filled with my enemies walking right in the middle of the road. They would be easy targets."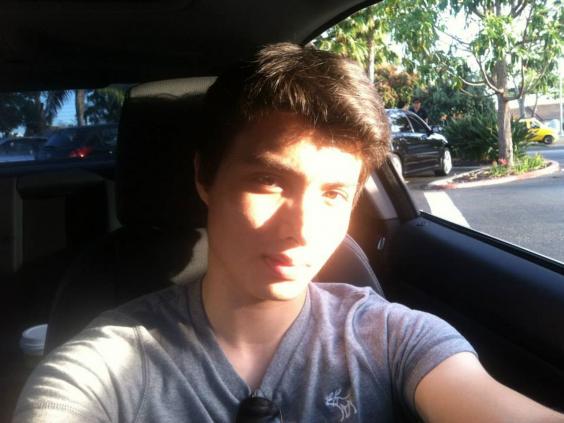 As Rodger drove across Isla Vista, shooting at some and running down others, thirteen people were injured, eight from gunshot wounds, four from the vehicle and one for whose injury the origin wasn't clear. Four of the injuries were considered serious.
Police said Rodger twice engaged in fire with deputies, and was hit in the hip, but the gunshot to the head that killed him was believed to be self-inflicted.
In his manifesto, the killer had said: "When I see the first police car come to their rescue, I will drive away as fast as I can, shooting and ramming anyone in my path until I find a suitable place to finally end my life."
Officers found three semi-automatic handguns with 400 unspent rounds in the car with Rodger's body, all of which was purchased legally.
In a video posted to YouTube, Rodger, the son of a Hollywood director who worked on the Hunger Games film series, said: "I don't know why you girls are so repulsed by me. I am polite. I am the ultimate gentleman. And yet, you girls never give me a chance. I don't know why."
Sheriff Brown called the tragedy "the work of a madman" and said the videotape posted by Rodger on the night of the killings was a "particularly chilling one, in which he looks at the camera and talks about what he is about to do".
Police had contact with Rodger on at least three occasions in the past year, including a visit on 30 April at the request of his family.
Attorney Alan Shifman said the Rodger family had called police after being alarmed by YouTube videos "regarding suicide and the killing of people" that their son had been posting.
Earlier on Saturday, Mr Shifman issued a statement saying Peter Rodger believed his son was the shooter, and said: "The Rodger family offers their deepest compassion and sympathy to the families involved in this terrible tragedy. We are experiencing the most inconceivable pain, and our hearts go out to everybody involved."
Reuse content