Layla Murphy had fallen in love with the wonderful world of Star Wars after she discovered some of her father's toys at their Virginia home.
Soon, she became a devoted fan, and had even attended a Star Wars convention. She also loved to wear Star Wars-themed clothes.
But not everyone approved of the eight-year-old's interest.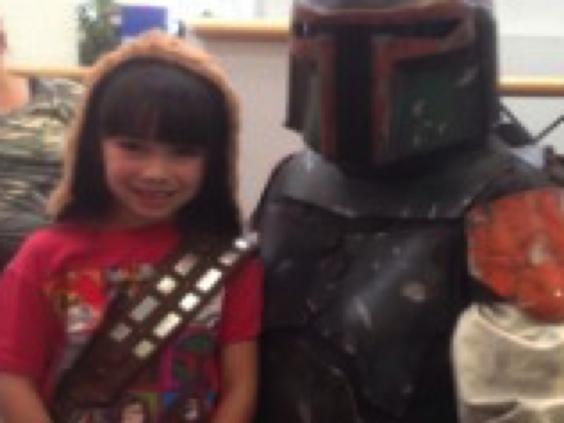 When she moved to a new school in the city of Norfolk, she was bullied by those who thought she should be less interested in the galaxy far, far away. Some said it was not an appropriate hobby for a little girl.
"At this new school Layla started coming home more quiet and less of herself, and started asking not to wear her shirts or R2-D2 jacket," her mother Nicolette Molina told CNN.
She did the girls were telling her she should not be interested in the films because they were "for boys".
It was fellow fan Jason Tuttle who came to the rescue of Layla, as speedily as Luke Skywalker.
Mr Tuttle, a member of the charitable fan group the 501st Legion which works with organisations such as the American Cancer Society, had met her at a fan convention.
He saw some pictures Layla's mother posted on his Facebook page and Ms Molina told him about her little girl's problem with the bullies.
Mr Tuttle responded by rallying other fans to come together in support of Layla and started sending Layla more and more Star Wars gifts.
Her mother said she show of support had helped her daughter win back her confidence.
She said: "A lot of the Star Wars community and fans are supportive, and a lot of the females can relate and had similar experiences in their own childhoods."
Reuse content