On February 17 1865 the Union army sacked Columbia, the capital city of South Carolina – and a confederate stronghold. General William Sherman and his 60,000-soldier army torched the city and raided the Confederate armoury as a punishment to the state for seceding from the US.
Sherman's army took what they could, but threw the surplus munitions into the Congaree River in Columbia. Occasionally in the intervening years, someone would uncover a weapon in the river. But a decades-old tar spill put a toxic blanket over surviving evidence of Sherman's raid.
Recent efforts to clean the riverbed have researchers salivating over evidence that once 40,000 tons of tar is removed, they can recover the Civil War relics.
SCANA Corp., an energy firm, is heading an $18.5m (£12.1m) project to remove about 40,000 tons of tar from the Congaree, according to a report from the Columbia newspaper The State. In order to get rid of the tar, the river must be dammed for a good portion of three years so crews can access the 150-foot wide, 1,800-foot long, two-foot deep bed of tar.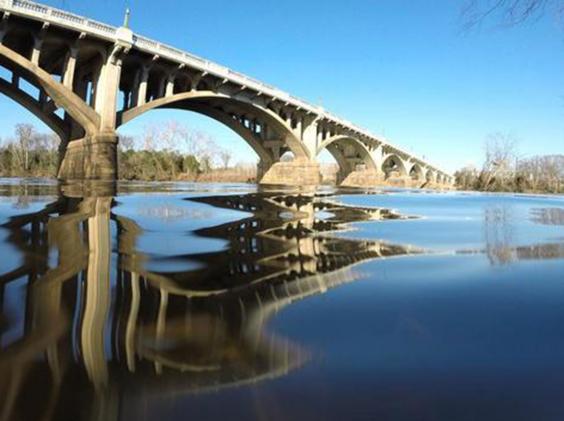 Metal detectors and sonar have indicated the presence of at least a portion of the arsenal dumped into the river by Sherman's troops. An inventory taken on the day of the raid documented 1.2 million cannon balls, 6,000 unfinished weapons, 4,000 bayonet scabbards and 3,100 sabres.
South Carolina was the first state to secede from the US, setting a series of events that led to the American Civil War. And after the Union army conquered the capital, they set to torching it.
"The truth is, the whole army is burning with an insatiable desire to wreak vengeance upon South Carolina," Sherman wrote to Gen. Henry W Halleck, according to the Washington Post. "I almost tremble at her fate, but feel that she deserves all that seems in store for her."
Historians are unsure of what exactly they'll find once the tar is cleared, but are excited about the prospect of uncovering a 150-year-old piece of American history.
Reuse content