Video has been released of the moment a reserve police officer in Oklahoma shot and killed an unarmed black man after he claims to have mistaken his gun for a Taser.
Just a week after video emerged of Walter Scott being fatally shot by a police officer in North Carolina, disturbing police bodycam footage shows 73-year-old reserve deputy Robert Bates shoot 44-year-old Eric Courtney Harris as he is being restrained on the ground in Tulsa, Oklahoma.
Bates later told police that he believed he was using his Taser stun gun and not his handgun when arresting Harris.
During the incident that occurred on 2 April, Harris can be heard shouting, "He shot me! He shot me, man. Oh, my god. I'm losing my breath," to which one officer replies, "F*** your breath."
Warning this video contains footage some viewers may find disturbing
Police have described Harris' death as an "inadvertent mistake."
In the video that was released on Friday, police are captured pursuing Harris in a patrol car before exiting the vehicle and tackling him to the ground.
A gun shot is then heard coming from Bates' gun, and the insurance executive is heard saying, "I'm sorry, I shot him."
Despite complaints by the wounded Harris that he is having problems breathing, officers continue to pin him to the ground by kneeling on his head.
One officer tells Harris that he should "Shut the f*** up" and telling him that he "shouldn't have f***ing run away".
Bates was pronounced dead approximately one hour later.
Sheriff's Capt. Billy McKelvey said that the arresting officers were not aware that Harris had been shot and called for medical assistance as soon as they realised.
In pictures: Walter Scott shooting
In pictures: Walter Scott shooting
1/12 Walter Scott shooting

Scott is pictued trying to escape from Slager

2/12 Walter Scott shooting

Slager points his weapon on Scott as he runs away

3/12 Walter Scott shooting

Slager is seen apparently firing on Scott

Reuters

4/12 Walter Scott shooting

Scott is falling over after the eighth shot is fired

5/12 Walter Scott shooting

Slager stands over Scott right after the shooting

Reuters

6/12 Walter Scott shooting

Slager appears to handcuff Scott's lifeless body

7/12 Walter Scott shooting

Another officer arrives at the scene and inspects Scott's body

8/12 Walter Scott shooting

More officeres arrive at the scence

9/12 Walter Scott shooting

10/12 Walter Scott shooting

Brothers of Walter Scott, Rodney Scott (L) Anthony Scott (R) appear at a news conference in Charleston after the shooting

AP

11/12 Walter Scott shooting

Walter Scott in the Coast Guard uniform

ABC

12/12 Walter Scott shooting

Officer Michael Slager has been charged with murder over the incident

EPA
Bates was assisting other deputies in arresting Harris, a convicted felon, after he was caught attempting to try and sell a 9mm handgun and ammunition to an undercover officer nearby, police said.
As a reserve deputy assigned to the violent crimes task force, the 73-year-old who works as an insurance executive, has "the full powers and authority" of a deputy while on duty.
Commenting on the incident, McKelvey called the shooting an inadvertent mistake, and Police Sgt. Dave Walker said that police "would not investigate the death unless the sheriff's office asked them to, and they have not asked us to."
Bates told the Tulsa World: "It was me," following the shooting.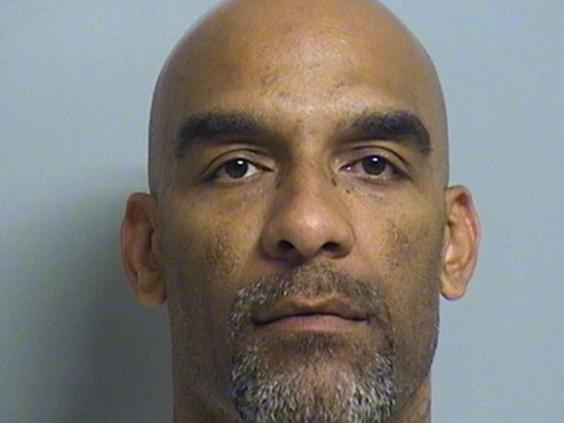 Adding: "My attorney has advised me not to comment. As much as I would like to, I can't."
Harris's death is the latest in a long list of black males to have died after incidents with the police.
Last year, the deaths of 18-year-old Michael Brown in Ferguson, Missouri and New York father-of-six Eric Garner sparked protests across the US with many questioning the use of fatal force by US police forces.
Last week, footage emerged showing 50-year-old black man Walter Scott being shot by police officer Michael Slager in North Charleston, North Carolina following a routine traffic stop. Slager was subsequently dismissed from the North Charleston police force and now faces charges of murder.
Reuse content