An extreme athlete and BASE-jumper known for climbing some of the world's highest cliffs without ropes or aid, and for leaping from great heights with his dog attached to his back, has died in a cliff accident in Yosemite National Park, California.
Dean Potter, 43, was killed along with his climbing partner Graham Hunt, 29, as they attempted a wingsuit flight in the park on Saturday.
Someone called for help after losing contact with the pair late that evening and a search-and-rescue team looked for them overnight. A helicopter crew eventually spotted their bodies on Sunday morning.
The pair are believed to have leaped from a 7,500 ft promontory called Taft Point at dusk on Saturday, in an attempt to avoid capture by park rangers.
They had worn wingsuits; skin-tight outfits with batwing sleeves and a flap between their legs to help them glide through the air. Their parachutes had not been deployed.
BASE jumping is an acronym for the fixed objects from which someone can parachute from: building, antenna, span and Earth (such as a cliff). The extreme sport is illegal in all national parks. Potter and Hunt both lived in the Yosemite area of California and had been prominent figures in the park's climbing community, park ranger Scott Gediman said.
"This is a horrible incident, and our deepest sympathies go out to their friends and family," Gediman said. "This is a huge loss for all of us."
Potter had been known for constantly pushing the boundaries of climbing and often scaled some of the world's most daunting cliff faces alone and without ropes, climbing with his bare hands.
He drew criticism in 2006 after making a "free solo" climb of the Delicate Arch in Arches National Park, Utah, which cost him his sports sponsorship from brand Patagonia, but Potter defended his climb by saying his actions were intended to "inspire people to get out of their cars and experience the wild with all their senses".
In 2009, Potter set a record for completing the longest BASE jump from the Eiger North Face in Switzerland by staying in flight in a wingsuit for two minutes and 50 seconds, earning him the title of 'Adventurer of the Year' from National Geographic magazine.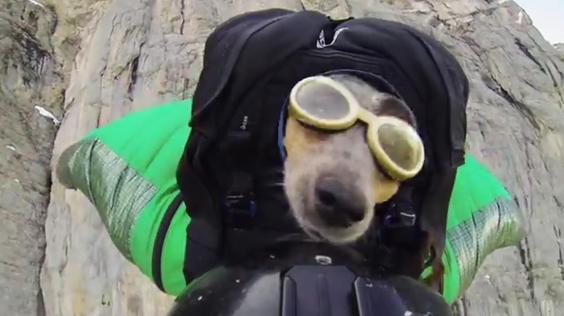 Five years later he strapped his dog Whisper to his back and made his pet a canine BASE-jumper in a wingsuit as he leaped off a mountain in Switzerland.
Mr Gediman estimates that about five BASE jumping deaths have occurred in Yosemite. He said he himself watched a BASE jumper leap to her death in 1999 when her borrowed chute failed to open.
Last year Ramón Rojas, the record-breaking BASE-jumper known as "The Birdman," died while flying using a wingsuit in Switzerland.
Additional reporting by PA