A family which has spent years hunting for treasure has found $1million worth of gold artefacts in the wreckage of a fleet of 18th-century Spanish ships off the coast of Florida.
Rick and Lisa Schmitt, their two children and daughter-in-law have used their salvage vessel Aarrr Booty to scour the ocean for treasure for the past two summers.
In June, Eric, the couple's 27-year-old son, found and recovered gold coins and chains from the wreckage of the convoy, which has laid some 15 feet (4.5m) under the water off Fort Pierce, around 130 miles (210km) north of Miami since 1715.
The well-preserved hoard includes 51 gold coins of various denominations and 40 feet (12m) of ornate gold chains featuring olive blossoms.
The most historically striking piece of the find is a highly rare gold coin known as a 'Tricentennial Royal'. Made for Spain's King Phillip V and dated 1715, only around six of the pieces are known to exist.
Schmitt believes the coin alone is worth around $500,000 (£321,000)
"These things were known as presentation pieces not meant to be circulated as currency," he told the Orlando Sentinel.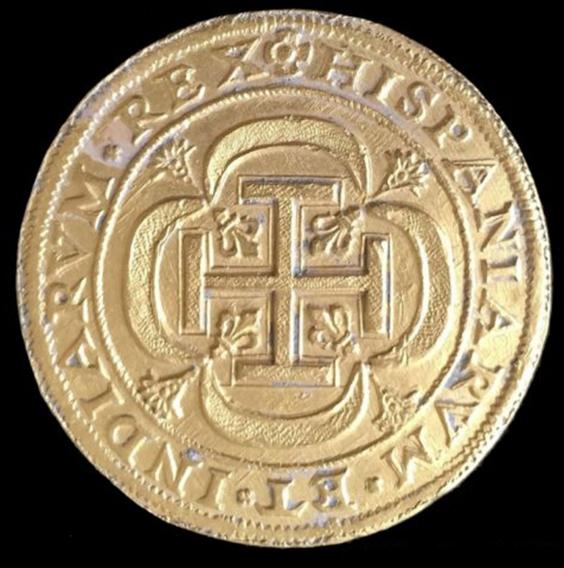 Read more:
Archaeologists uncover 'exceptional' tomb of 350 year old corpse
Ancient 2,400-year-old gold bongs discovered in Russia
Human waste could be worth millions after scientists discover microscopic gold nuggets
Brent Brisben, whose firm, the 1715 Fleet – Queens Jewels LLC, owns the rights to the wreckage, said he decided to make their finding public to coincide with Friday's 300th anniversary of the sinking of 11 galleons brought down by a hurricane off the coast of Florida as the convoy was sailing from Havana to Spain.
The Schmitts appear to have discovered a small slice of the ship's cargo, as the convoy's manifests suggests it carried goods work around $400 million (£256 million) of which $175 million (£112million) has been recovered, Brisben said.
Brisben's firm bought the rights to the site in 2010 from the heirs of the legendary treasure Mel Fisher.
The company allows treasure-hunters to search the convoy under subcontract agreements.
Under federal and state law, Florida will take possession of up to 20 percent of the find for display in a state museum. Brisben's company and the Schmitt family will split the reminder, Brisben said.
Reuse content