A Florida man has been killed by an upper-cut from Batman - according to his obituary.
Stephen Merrill, 31, from Winter Haven in Florida, passed away suddenly on 12 February but his family wished to send him off in style and requested that the local newspaper print a very special obituary.
"He would have been honoured to have died by an uppercut from Batman," his fiancée, Stephanie Vella, told ABC news.
Mr Merrill's family were unsure of what the cause of death was.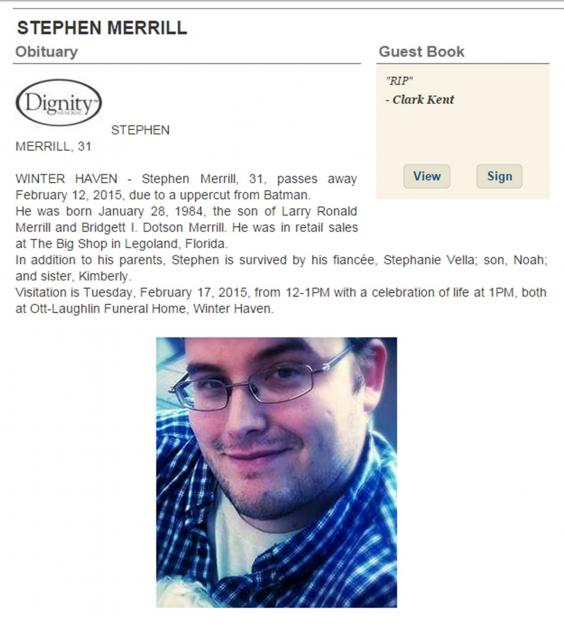 The father-of-one was diagnosed with cancer in June 2013, but went into remission in December of that year before the cancer returned in October. He was recovering from a surgery over Thanksgiving when he died.
Left without an official cause of death, the family asked local newspaper The Legacy to make a special exception – to which they complied.
"It was worth it for the family. It was the only time the family was able to laugh in days," said close friend Andrew Albreacht.
"We were all laughing, and it made the situation easier to deal with," he told ABC news.
Actors who have played Batman
Actors who have played Batman
1/11 Ben Affleck...

Batfleck returns? Ben Affleck has been cast as the new Batman in Zack Snyder's Man of Steel sequel, Batman vs. Superman. The announcement was met with outrage from many fans who did not see Affleck as suitable for the role

Getty

2/11 ...and here he is as Batman

Ben Affleck as Batman with the batmobile in a Batman vs. Superman teaser photo tweeted by Snyder in May 2014

Zack Snyder

3/11 Christian Bale...

Christian Bale starred as the Caped Crusader in Christopher Nolan's The Dark Knight trilogy, which made Batman finally, well, dark. 'Bale has exactly the balance of darkness and light that we were looking for' said Nolan. Bale had also tackled the role for 2005's Batman Begins, to generally favourable reviews bar what some critics called his 'ridiculous' husky voice

Getty Images

4/11 ...and here he is as Batman

Christian Bale as Batman in a scene from 2012's The Dark Knight Rises

AP

5/11 George Clooney...

George Clooney was cast in 1997's Batman & Robin when his career was only just taking off. The film was a shocker, not least for the famous 'bat nipples' and general camp style - it is still laughed at today. Clooney has since called the movie 'a waste of money' but luckily, it did little to harm his chances as an actor.

Getty Images

6/11 ...and here he is as Batman

Those 'bat nipples' are bad, aren't they? Look at them...

Warner Bros

7/11 ...and here he is as Batman

Michael Keaton as Batman in 1992's Batman Returns

Rex

8/11 Adam West...

Adam West (L) and Burt Ward, who played Batman and Robin in the 1960s

Rex

9/11 ...and here he is as Batman

Adam West played Batman for a 1966 movie and several animated series. Many know him for his camp OTT portayal of the superhero but West was later offered the role of James Bond. He declined as he believed Bond should always be British. He now makes regular appearances on Family Guy.

Rex

10/11 Robert Lowrey

Robert Lowrey played Batman in 1949's Batman & Robin aged 36. He didn't star as the superhero in another movie but did guest-star in a 1956 episode of The Adventures of Superman - the first time a Batman actor and a Superman actor collaborated on-screen.

Rex

11/11 Lewis G Wilson

Lewis G Wilson was the first actor to play adult Batman in 1943 serial Batman. One critic meanly called the 23-year-old 'thick about the middle', not helped by the bizarre positioning of his utility belt. Wilson did not go on to enjoy a film career

Den of Geek
The obituary has now been put online, where many people who knew Mr Merrill have signed the guestbook. Some of the entries continue the final laugh had by the father, with one entry reading: "Always knew he would go too far one day. Rest well friend – Superman, Metropolis."
The superhero theme even extended to his funeral. Mr Merrill had Captain America's shield – made of flowers – and a quotation from The Avengers film printed on the programme.
It was what he would have wanted, his family explained.
They added that Mr Merrill, who worked at Legoland in Maryland, possessed many of the qualities of Captain America: he was considerate, helpful, and left an impression on many.
Reuse content