A 20-year-old man has been arrested for the shooting of two police officers in Ferguson Missouri last week.
Jeffrey Williams has been charged with two counts of assault for allegedly shooting and seriously injuring the two officers outside Ferguson police station during a protest on Thursday evening.
Police said that Mr Williams had admitted to firing the shots that hit the officers, but claimed that he was aiming at other people with whom he was having a dispute, St Louis County prosecutor Robert McCullouch said at a press conference on Sunday. Mr Williams has been part of public demonstrations in Ferguson, according Mr McCullouch.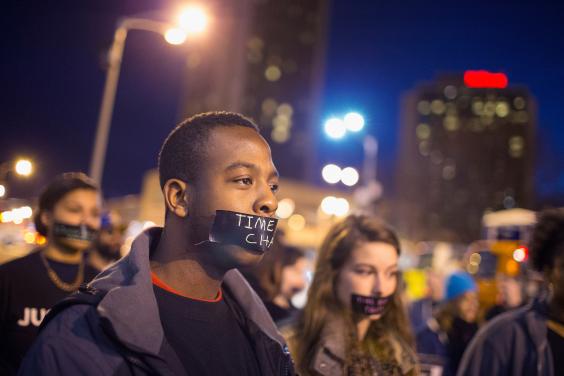 A 40mm hand gun matching the shell cases found on the scene was recovered from Williams' possession, Mr McCullouch said. "Of course at this stage he is innocent until proven guilty," he said.
The information that led to the arrest was provided by members of the public, Mr McCullouch said, and he called for further cooperation with the police from the Ferguson community.
The officers were seriously injured, but are recovering well, according to police. Mr Williams is being held on $300,000 bail. The investigation is ongoing.
The shootings followed the release of reports that claimed to reveal institutional discrimination against black suspects within the force. The federal study was carried out in the aftermath of the shooting dead of unarmed black teenager Michael Brown.