The former president of Cuba, Fidel Castro, has been seen in public for the first time in more than a year after rumours spread that he had died.
Castro met with a group of visiting Venezuelans in the capital Havana, according to the website Cubadebate.
Four images were published that showed the politician inside a vehicle shaking hands with four separate individuals.
The revolutionary, who is not facing the photographer, is captured wearing a tracksuit and baseball cap.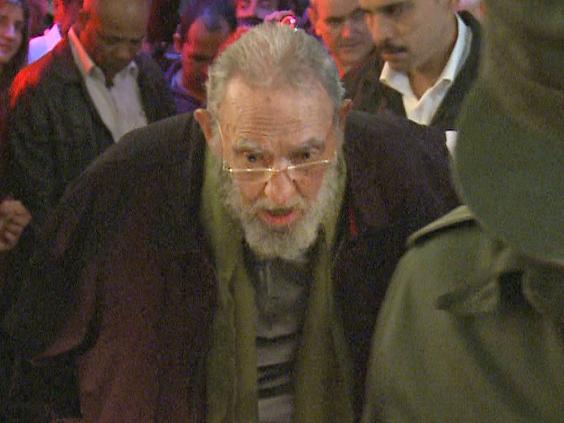 Castro, who will turn 89 on August 13 this year, was last seen publicly at the inauguration of an artist's studio in January 2014.
It is claimed that the pictures were taken on Monday, but no reason has been given as to why the photos were not published until Friday.
Official Cuban media previously released photos of Castro meeting a student leader, Cuban agents and the Venezuelan president, Nicolo Maduro, in private, in February and March this year.
Fidel Castro: Life in pictures
Fidel Castro: Life in pictures
1/27

Rex

2/27

Fidel Castro in Havana, Cuba

Rex

3/27

Cuban president Fidel Castro looking at a rifle during a visit in North Vietnam during the Vietnam war

Getty

4/27

Cuban President Fidel Castro in Matanzas, Cuba, on the 46th anniversary of the assault on the Moncada Barracks by Castro's rebels. The attack marked the beginning of the Cuban revolution, which eventually propelled Castro to power

Getty

5/27

Fidel Castro with his first wife Mirta and his son Fidelito

Rex

6/27

Fidel Castro at his 'Guerrilla Man of Time' book launch in Havana, Cuba

Rex

7/27

Fidel Castro

Rex

8/27

Cuban President Fidel Castro delivers a speech attacking media organizations and groups opposed to his government in the wake of rumours of his death

Getty

9/27

Fidel Castro playing Basketball

Rex

10/27

Watched by Russian premier Nikita Khrushchev, Cuban dictator Fidel Castro takes a photograph of Moscow during his first visit to Russia

Getty

11/27

Cuban president Fidel Castro attends a protest against the US embargo of Cuba

Getty

12/27

Fidel Castro and Osvaldo Dorticos Torrado talking to Cuban medical staff who are going to Peru to help with the aftermath of an earthquake

Getty

13/27

Cuban revolutionary leader Fidel Castro relaxing at a sugar plantation near Havana, surrounded by children

Getty

14/27

Cuban President Fidel Castro presides over a massive May Day demonstration at Havana's Plaza de la Revolucion (Revolution Square

Getty

15/27

Cuban leader Fidel Castro is presented with an invitation to the New York Press Photographer's Ball, in New York City

Getty

16/27

Fidel Castro, Prime Minister of the Cuban Revolutionary government and first secretary of the Cuban Communist Party, and Ernesto Guevara known as Che, minister of Industry in Havana, Cuba

Getty

17/27

Cuban President Fidel Castro waves to participants of the traditional May Day parade attended by thousands of people in Havana's Plaza of the Revolution

Getty

18/27

Cuban Prime Minister Fidel Castro with Argentine guerrilla leader Ernesto Che Guevara

Getty

19/27

Pope Benedict XVI meets with former Cuban President Fidel Castro at the Vatican embassy in Havana, Cuba

Getty

20/27

Cuban revolutionary Fidel Castro and Soviet politician Nikita Sergeyevich Khrushchev in Moscow

Getty

21/27

Iraqi vice-president Saddam Hussein, stands with Cuban President Fidel Castro and Defense minister General Raul Castro in Havana, during his visit to Cuba

Getty

22/27

Iranian President Mahmoud Ahmadinejad and former Cuban leader Fidel Castro

Rex

23/27

Cuban President Fidel Castro listens to Pope John Paul II as they walk on the tarmac of the Jose Marti International Airport in Havana

Getty

24/27

Fidel Castro with Chavez in Cuba

Getty Images

25/27

Fidel Castro greets Zimbabwe's President Robert Mugabe in Havana

26/27

Fidel Castro with Gabriel Garcia Marquez in 2000. The two friends first met in 1959

AFP/Getty Images

27/27

Mandela salutes the crowd alongside Fidel Castro in Matanzas

Getty Images
In January rumours swept Twitter that the ex-leader had died. However, this coincided with the death of Fidel Castro Odinga, the son of a prominent Kenyan politician, leading many to suspect users were confused by the similarity of the names.
Owing to ill health Castro temporarily stepped aside as president in July 2006, but his brother Raul assumed the top job permanently in February 2008 when he was elected president.
Since that time there have been fears for the older brother's health and he is thought to have been receiving care from nurses at his home.
Additional reporting by AP
Reuse content