A fire that led to the deaths of seven children from an Orthodox Jewish family is believed to have been caused by a malfunctioning hot plate left on for the Sabbath.
The blaze, in Brooklyn, New York, killed three girls and four boys, aged between 5 and 16, and left their mother and another child in a critical condition.
Officials identified the victims as: Eliane, 16, Rivkah, 11 and Sara, 6, David, 12, Yeshua, 10, Moshe, 8 and Yaakob, 5 - members of the Sassoon family.
According to the New York Times, a neighbour heard Ms Sassoon's second-eldest child, Siporah, shout "Mommy, mommy, help me!" before she jumped from a window.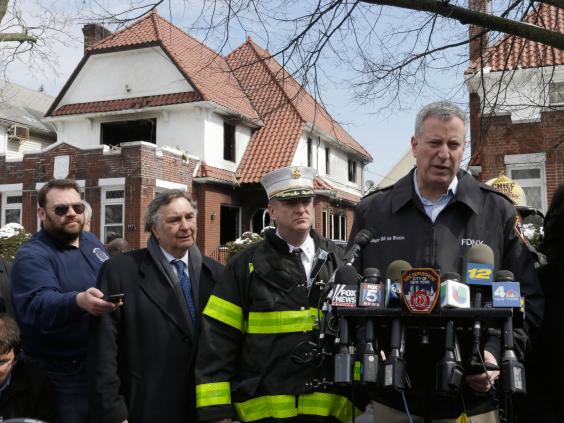 Neighbour Nate Weber, watched as the fire tore through the house and the mother leapt through a window.
"I heard the mother yelling, 'My kids are in there! My kids are in there! Get them out! Get them out!" he told the New York Daily News.
"The mother was outside. She was burned," he added.
It took more than 100 fire fighters almost an hour to bring the fire under control.
A 45-year-old woman, believed to be the mother, and a 14-year-old girl were taken to a local hospital in a critical condition, Michael Parrella, a New York Fire Department spokesman, confirmed.
Bill de Blasio, the mayor of New York, called the event an "unbelievable tragedy".
"Every New Yorker is feeling this pain right now," he said.
Fire commissioner Daniel Nigro said he believed the fire, which began just before 12.30am on Saturday, was started by a hot plate that was left on in the kitchen.
He said the tragedy was the worst fatal fire in living memory.
Many Orthodox Jews do not use electricity on the Sabbath, so some leave a hot plate on to ensure it is usable without violating any religious rules.
Additional reporting by Reuters
Reuse content