Firefighters that helped a US man who had a heart attack while cutting his garden returned to finish his job as a gesture to his family.
McCormick, 65, who had a history of heart problems, was outside cutting the grass when he began to have a heart attack. He went indoors and collapsed, KHOU reported, and firefighters and an ambulance arrived on the scene.
The ambulance took McCormick to the hospital, while the firefighters followed behind, following procedure.
But after the ambulance had arrived at the hospital, engine driver Luke Badnarek suggested that the crew go home and finish cutting the grass for McCormick's family.
A neighbour secretly photographed the firefighters, and it was uploaded to Facebook.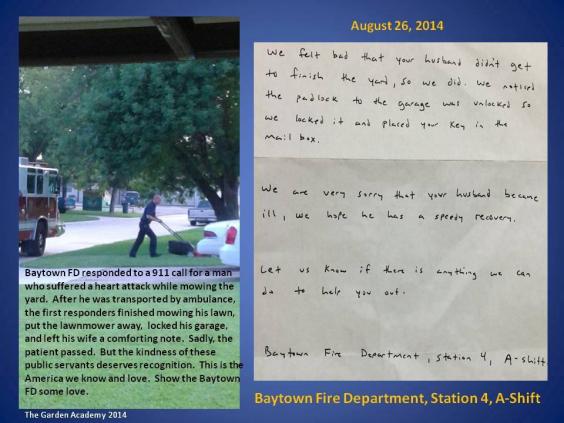 McCormick died two days later. But his family said that they were grateful for the gesture.
"It just speaks to their character," said McCormick's son-in-law Dan Blackford. "They say honor is doing the right thing when nobody's looking. That's a fact.
"They were very honorable."