As it battles to clean-up a water supply that has been linked to the deaths of at least 10 people and declared a federal emergency, it should come as no surprise to learn that Flint is considered one of the most dangerous city in America.
But while the US Environmental Protection Agency recently compared Flint's water supply to toxic waste, it is actually the city's sky-high violent crime and sexual assault rate that makes it so unsafe.
In 2012 Forbes listed Flint as sixth on its list of the most dangerous places in America for women. 
The magazine said that in April of that year at least 60 young women were treated by the Wayne County Sexual Assault Forensic Examiners Program. 
In pictures: Flint water crisis
In pictures: Flint water crisis
1/10

Anthony Fordham picks up bottled water from the Food Bank of Eastern Michigan to deliver to a school after elevated lead levels were found in the city's water in Flint

Reuters

2/10

Michigan National Guard Staff Sergeant William Phillips (L) assists a Flint resident with bottled water at a fire station in Flint

Reuters

3/10

Flint residents Arthur Woodson, left, and Tony Palladino Jr. protest the arrival of Flint native and filmmaker Michael Moore as Moore accuses Gov.Rick Snyder of poisoning Flint water during a rally outside of city hall in Flint

AP

4/10

Flint residents pick up bottled water and water filters at a fire station in Flint. Michigan National Guard members were set to arrive in Flint to join door-to-door efforts to distribute bottled water and other supplies to residents coping with the city's crisis over lead-contaminated drinking water

Reuters

5/10

Soldiers from the Michigan Army National Guard Flint prepare to give Flint residents bottled water at a fire station in Flint

Getty Images

6/10

Justin Roberson (L), age 6, of Flint, Michigan and Mychal Adams, age 1, of Flint wait on a stack of bottled water at a rally where the Rev. Jesse Jackson was speaking about about the water crises at the Heavenly Host Baptist Church in Flint

Getty Images

7/10

A man sits next to a stack of bottled water at the Heavenly Host Baptist Church in Flint

2016 Getty Images

8/10

The top of a water tower is seen at the Flint Water Plant. President Barack Obama declared a state of emergency in Michigan and ordered federal aid to be used to help state and local response efforts to an area affected by contaminated water

Reuters

9/10

Rosie Wright, center, rallies with the crowd over Flint's water crisis in Ann Arbor, Michigan

AP

10/10

Rick Catherman participates in a rally around Flint's water crisis in Ann Arbor, Michigan

AP
In similar clinics in the areas surrounding Flint that number was in the hundreds.
The following year Business Insider declared Flint America's most dangerous city, citing the FBI'S 2012 unified crime report. The report revealed Flint had an incredible 62 murders per 100,000 people, 106 forcible rapes per 100,000 people and 662 robberies per 100,000 people.
It has since slipped down the list to the third most dangerous city in the US, although 2015 reportedly saw its murder rate spike again following several years of decline.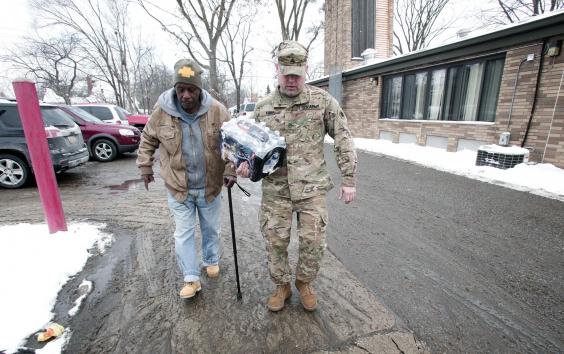 One reason for the high crime rate is abject poverty throughout the city – something that has compounded problems for residents amid claims they are still being charged up to $200 a month for their contaminated water supply.
Between the 1930s and 1970s, Flint had a booming motor industry – part of the spill-out from General Motors' operations in nearby Detroit.
But GM started laying people off in the 1980s as it looked to build new factories outside the US and unemployment has grown steadily since, with roughly half of residents over 16 now out of work.
Those who can afford to have steadily left Flint over the past 30 years, leaving behind a desperately poor local population where more than 41% live below the poverty line, according to the US census.
The steadily declining population meant that by 2012 there were just 122 police officers for population of 90,000, according to MLive.com, which has only added to its crime problem.
Reuse content