Four people have been killed and five injured after a small plane crashed into an airport in Wichita, Kansas.
The plane lost power shortly after take-off on Thursday and crashed into a flight-training building while trying to return to the Mid-Continent airport in Wichita, causing a fire that sent towering plumes of smoke into the air.
One of the dead was found on the roof of the building and is believed to have been the pilot. Officials said there was only one person on board the plane.
Three people who were inside a flight simulator in the building were killed in the crash, Wichita Fire Chief Ronald Blackwell said. Everyone who was in the building has been accounted for.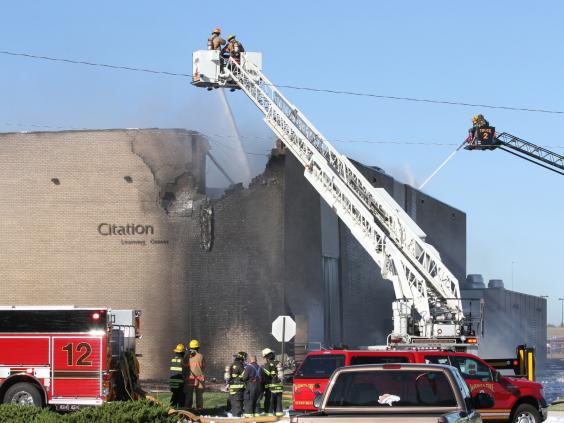 Five people were injured in the crash. Four were treated and released, while one person remains in hospital in a serious condition.
The plane appeared to strike the top of the flight-training building and caused a "horrific" fire, according to Wichita Fire Chief Ronald Blackwell, while one witness described seeing a "giant fireball".
The crash caused such severe structural damage to the building that rescuers were unable to pull victims' remains from the wreckage at the time. Heavy equipment was being sent to the scene to assist with the effort on Thursday.
The victims' identities have not been released at this time.
Wichita Police Deputy Chief John Speer said the crash was "not an intentional act," adding: "We are comfortable in saying this is an aviation accident."
An FBI spokesperson said on Thursday it was too early to rule out anything to cause the incident, however.
Additional reporting by AP
Reuse content