Four people were injured at a US theme park when a rollercoaster car derailed, leaving them dangling 30 feet in the air.
Two people were taken to hospital but the accident on the Ninja ride at Six Flags Magic Mountain, in California, only caused minor injuries, officials said.
The coaster, which "dangles" riders from the track, was running as normal on Monday when a carriage hit a tree branch at about 5.30pm and stopped.
More than 20 riders were trapped between 20 and 30 feet in the air for almost three hours while they were rescued.
Jeremy Ead, one of the injured riders, told KCAL-TV they were going across a turn and there were a "sudden loud nose".
He said: "I ducked down just in time. A hard branch hit me in the head. I was there bleeding from my head."
Television reports showed at least one of the cars suspended beneath the track had derailed at the front.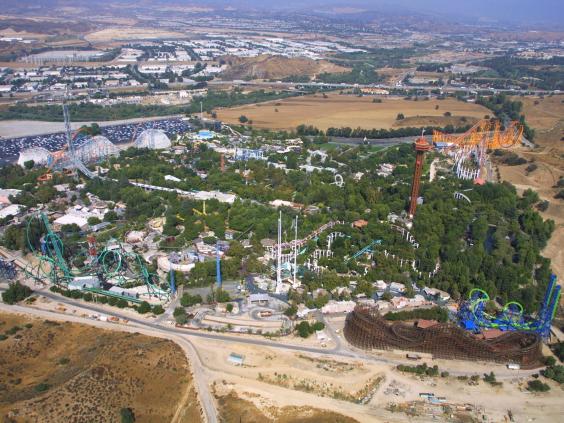 Firefighters and park maintenance workers in harnesses could be seen removing the riders one by one from the cars as they waited patiently, talking and resting.
All were alert and communicated with park staff during the evacuation process, Six Flags said in a statement.
The theme park website describes the Ninja ride as "the black belt of rollercoasters" that "whips you into submission".
"As you shoot down the snake-like steel track you'll grip the hillsides and blast through the trees swiftly, slicing through the landscape," it says. "Ninja pivots with precision as you narrowly miss tagging land and water, whipping around at 55 miles per hour."
The ride will remain closed while the accident is investigated, a park spokesperson said.
Six Flags Magic Mountain is in the Valencia area of Santa Clarita, about 25 miles of Los Angeles.
The accident happened on the same day a teenage boy, believed to be British, died after falling from a rollercoaster in Benidorm.
In July last year, a 52-year-old woman died at the Six Flags Over Texas park when she fell 75 feet from the Texas Giant ride. The death was ruled an accident and the theme park denied any wrongdoing.
Additional reporting by AP
Reuse content