Gay couples in Alabama started making history on Monday as they lined up to get married – overcoming a last ditch effort by the state's conservative chief justice who had appealed to judges not to hand out licences.
Alabama became the 37th state in the US where gay couples could get married after a federal judge last month overturned a state law that prohibited same sex-sex marriage on the grounds that it was unconstitutional.
At the weekend, Alabama Chief Justice Roy Moore, had tried to ensure gay marriages would not go ahead by ordering judges in the state to ignore the federal court's decision.
But while some judges in Alabama complied with Mr Moore's directive and refused to issue marriage licences, a number of other judges handed them out.
"We have marriages going on in Montgomery and Birmingham and other cities in Alabama," Susan Watson, executive director the American Civil Liberties Union of Alabama, told The Independent. "But there are some judges who have refused to issue licences."
The chief legal officer in Alabama had appealed to the the US Supreme Court, urging it to place gay marriages in the state on hold while it decided whether or not a law banning them was indeed unconstitutional.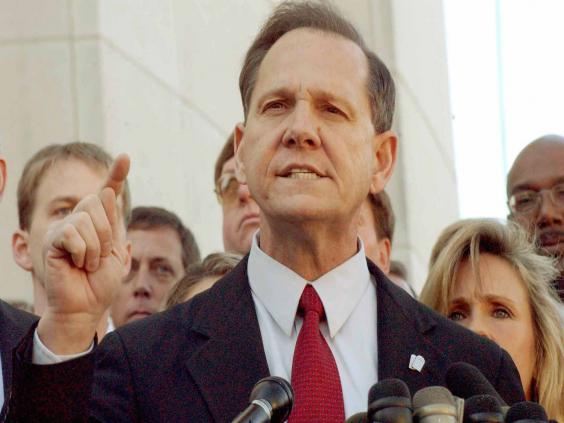 But the Supreme Court refused to do so, opening the way for same sex couples in the state to get wed.
On Monday, activist said gay couples in 22 of Alabama counties were refused the licences but in places like Birmingham, they queued up to get married.
Wiping away years, Eli Borges Wright, 28, said he was overjoyed to be marrying the man with whom he has been in a relationship for the past seven years. "After all of these years, I can finally say this is my husband," he told the Associated Press.
This is not the first time that Mr Moore has been at the centre of controversy. In 2003, he was forced to stand down during his first term as chief justice after he refused to remove a monument to the Ten Commandments from the Bible from his courtroom.
The 67-year-old has been one of the most outspoken opponents of gay marriage. In 2002, the wrote that homosexuality was "evil".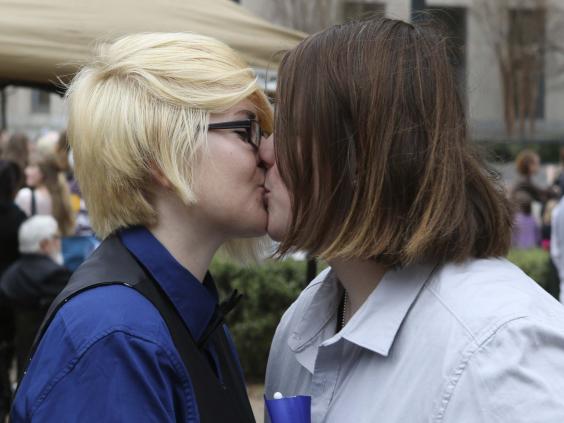 A ban on gay marriage was cemented into Alabama state law in 2006 as a result of Amendment 774, also known as Alabama Sanctity of Marriage Amendment, which prohibited anyone in the state recognising or perform same-sex marriages or civil unions. The referendum was approved by 81 per cent of the voters.
Last month, a federal judge, Callie Granade, ruled that Alabama's prohibition on same-sex marriage was unconstitutional but she put her decision on hold until Monday.
Mr Moore had issued his demand to judges on Sunday night, tellaing them that the federal judge's ruling did not apply to them
In April, the Supreme Court is set to hear oral arguments in cases concerning marriage restrictions in Michigan, Kentucky, Ohio and Tennessee.
A ruling, due by the end of June, will determine whether or not state prohibitions on gay marriage violate the US Constitution's guarantee of equal protection under the law and whether the remaining 13 state bans can remain intact
Reuse content