With the help of human ingenuity, hydraulic pistons and just a little bit of soap, a historic lighthouse on the US East Coast has been moved approximately 135ft inland, away from the eroding cliff-face that threatened its existence.
The 160-year-old Gay Head Lighthouse sits atop clay and sandstone cliffs buffeted by the Atlantic on the remote western tip of Martha's Vineyard, an island off Massachusetts known today as a summer retreat for the East Coast elite. Indeed, the lighthouse is just two miles from Red Gate Farm, the former summer home of Jacqueline Kennedy Onassis.
Historically, however, the island was a hub for the whaling trade, which thrived in the region during the 19th century. The Gay Head Light, visible as far as 20 miles away, warned mariners of the coastline and the treacherous underwater rocks that stretch half a mile from the shore.
Yet after several landslides in recent years, the lighthouse was left a mere 46ft from the fragile cliff's edge. Island residents feared the 52ft-high brick building, which weighs more than 400 tons, would soon be too close to the brink to be moved safely.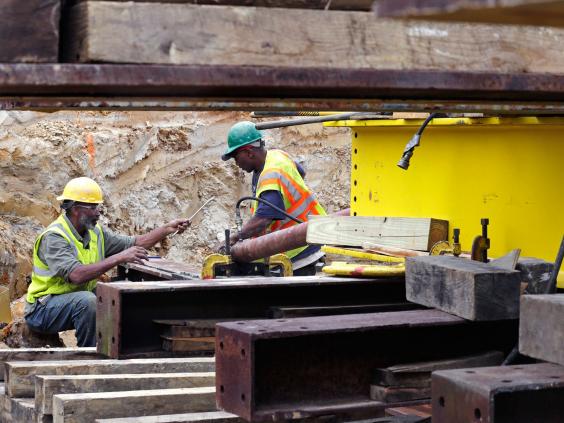 Thus, this spring, workers from the New York-based International Chimney Corp, which specialises in such painstaking moving works, began digging beneath the structure to lift it a few feet from the ground with a system of beams and hydraulic jacks.
The company has moved five other lighthouses in the past 25 years, including the Cape Hatteras Lighthouse in North Carolina, the tallest brick lighthouse in the US, which weighed 10 times as much as the Gay Head Lighthouse.
Jerry Matyiko, who is leading the moving team, told the Associated Press: "Preparing it was the hard part. Moving it is the easy part."
On Thursday morning, the lighthouse began moving very slowly on a concrete pad at the same elevation, propelled by hydraulic pistons at just a few feet per hour, along steel rails lubricated with soap.
The lighthouse arrived at its destination on Saturday morning, and the landscape around it will now be restored to remove all trace of the move.
Reuse content