In the latest triumph for the cause of gay marriage in the US, the Obama administration's Attorney General, Eric Holder, has announced that married same-sex couples across the country will be granted a raft of new rights to bring their unions in line with those of other married couples. Those new benefits include equal rights to visit a partner in prison, and to file jointly for bankruptcy.
Same-sex marriage is now legal in 17 US states as well as Washington DC. As long as the couple in question was married in a state that recognises their union, the new regulations from the Department of Justice will apply in federal matters across the US – including in the more than 30 states where gay marriage bans remain in effect.
Speaking in New York on Saturday, at a dinner organised by the gay rights organisation Human Rights Campaign, Mr Holder invoked the memory of the civil rights struggle, saying the federal government "must be as aggressive today" in tackling discrimination as it was then.
"We are, right now, in the middle of marking a number of 50-year anniversaries of key milestones in the civil rights movement," said Mr Holder, who is the US's first African American attorney general. "And yet, as all-important as the fight against racial discrimination was then, and remains today, know this: My commitment to confronting discrimination based on sexual orientation or gender identity runs just as deep."
In instructions to be laid out in a policy memorandum to be issued by the Justice Department on Monday, same-sex couples will now be allowed out of prison to care for an ailing partner or to attend their funeral. They can invoke "spousal privilege" and refuse to testify against their partner in court. And they will be entitled to the federal benefits for surviving partners of police officers killed while on duty.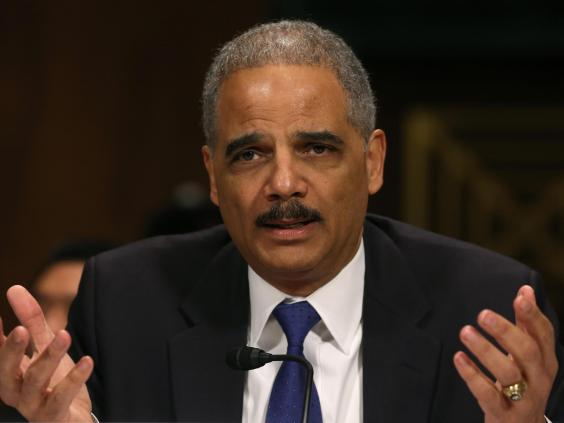 In June 2013 the US Supreme Court struck down part of the 1996 Defence of Marriage Act, which denied federal benefits to same-sex couples. However, that ruling applied only to states where gay marriage is already legal. Mr Holder said the new policy would apply, "In every courthouse, in every proceeding, and in every place where a member of the Department of Justice stands on behalf of the United States."
After the Supreme Court called a halt to gay marriages in Utah last month, Mr Holder announced the federal government would recognise the 1,300 same-sex marriages that had been performed during the brief window – less than a month – in which they were legal in the state.
Chad Griffin, the president of Human Rights Campaign, welcomed the new Justice Department regulations. "This landmark announcement will change the lives of countless committed gay and lesbian couples for the better," Mr Griffin said in a statement. "While the immediate effect of these policy decisions is that all married gay couples will be treated equally under the law, the long-term effects are more profound. Today, our nation moves closer toward its ideals of equality and fairness for all."
Gay marriage opponents condemned the new policy. Tony Perkins, the president of the Family Research Council, said the expanded recognition of same-sex marriages was "yet another illustration of the lawlessness of this administration."
Brian Brown, president of the National Organisation for Marriage, issued a statement saying, "This is just the latest in a series of moves by the Obama administration, and in particular the Department of Justice, to undermine the authority and sovereignty of the states to make their own determinations regulating the institution of marriage."