A 10-year-old girl has died after falling unconscious while riding a rollercoaster at a US theme park.
Jasmine Martinez became ill on the Revolution ride at Six Flags Magic Mountain, in California, during a day out on Friday.
A spokesperson for the park said she was treated by paramedics at the scene and airlifted to hospital, where she later died.
It was unclear whether her death was related to the rollercoaster, which reaches speeds of 55mph and has a 360 degree loop.
The Los Angeles County coroners' office is due to perform an autopsy to determine Jasmine's cause of death and did not say whether she had a pre-existing health condition.
Ed Winter, the assistant chief medical examiner, told Reuters that the girl was taken to two hospitals in Los Angeles and died on Saturday.
A spokesperson for Six Flags Magic Mountain said: "We were deeply saddened to learn that Jasmine Martinez, who was transported to the hospital after riding Revolution on June 12 has died.
"Our thoughts and prayers are with Jasmine's family and friends during this difficult time."
One of her parents was in the air ambulance with her, the City News Service reported.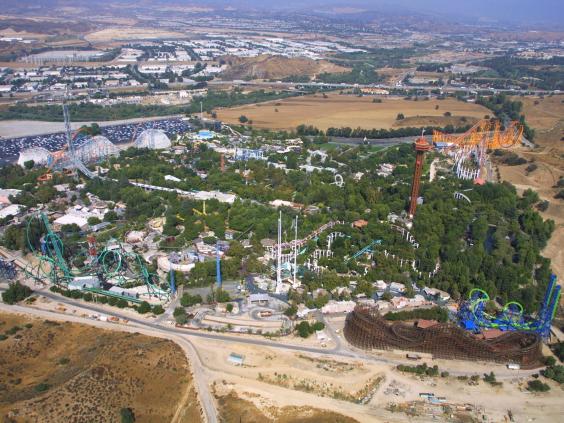 "There is no evidence to suggest that this was in any way ride related. We do not know if there was a pre-existing condition," the Magic Mountain spokesperson added.
Six Flags Magic Mountain holds the world record for the most rollercoasters in one theme park and is one of the most-visited in the US.
The Revolution, one of its 19 thrill rides, opened in 1976 as the world's first ride to feature a full vertical loop and is billed as "one of the most famous and iconic looping rollercoasters in the world".
It was reopened on Monday night, following a review by state authorities after it was closed following news of Jasmine's death.
In 2001, a 28-year-old woman died after riding another rollercoaster at the park.
An autopsy found that a pre-existing brain aneurysm had ruptured and that "stress and strain" from the Goliath ride was "probably a factor" in causing the weakened blood vessel to burst.
A Six Flags employee was killed on the Revolution in 1996 when she was hit by a moving carriage while trying to cross the tracks.
Reuse content