Disturbing footage from an Indianapolis park appears to show a girl brutally attacking a another girl moments before she pushes victim's younger brother violently to the floor.
The video, which surfaced on Facebook on Saturday, captures the horrific attack that shows the aggressor punch and pull the hair of the victim, as well as stamp on the her head.
Indianapolis Metropolitan Police say that on Sunday they arrested the girl who they believe was behind the attack.
Warning: This video may contain footage some viewers may find disturbing The names of those involved are yet to be released due to the ages of those involved.
They said that they believed the two girls knew each other, despite the victim saying she did not know the name of her attacker.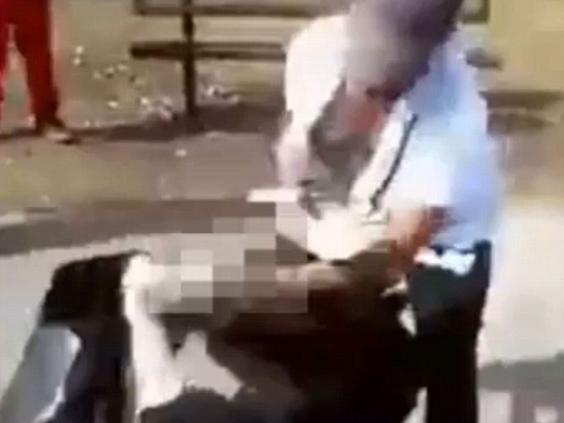 The video believed to have been shot in Brookside Park to the east of the city, begins with the girl in white facing off with the girl in black who appears to be walking her younger brother home.
Within seconds the girl in the white launches into a brutal attack, pulling the victim's hair as she rains down blows on the victim's head.
She is then pulled off of the victim by a friend, but continues her attack seconds later as the girl in black walks away.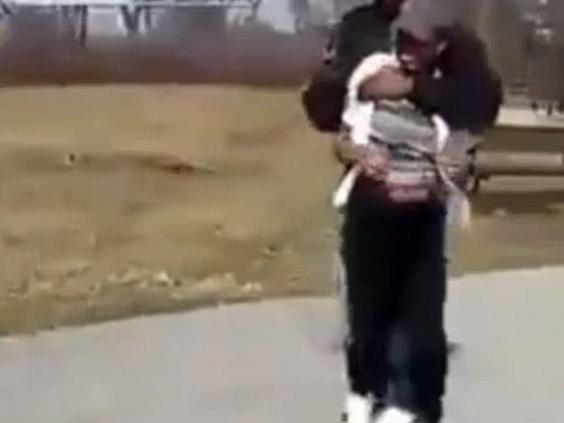 Her younger brother then attempts to protect his older sister but is punched and then thrown violently to the ground by his sister's attacker.
The young boy can then be seen crying as his sister walks away with him shouting, "I'm sorry, I'm sorry."
Commenting on the incident, Rev. Charles Harrison from anti-violence charity Ten Point Coalition Indianapolis, said that the video was so brutal "he could only watch it once."
He told Fox 59: "This is glamorized, this is glorified, this brings them 'street cred,' this brings them notoriety, ya know? She's tough; she's going to beat somebody up.
"It's almost like they plan these fights, they want these fights to be on tape where they can put it on social media. This is horrible."
Warning: This video may contain footage some viewers may find disturbing Last week, a similar video emerged that showed a group of girls attacking a 15-year-old in a McDonald's in Brooklyn.
The video that quickly went viral across social media sites received condemnation from local residents and is currently the subject to a police investigation.
Reuse content