An adventurous octopus appears to attempt an escape from its aquarium enclosure and teeters over the edge of it before being stopped by a member of staff.
The Giant Pacific octopus was filmed using the strong suckers on its tentacles to pull itself up the glass walls of its tank before it dangles over the side.
In the video, children and some adults can be heard squealing and screaming as the slithery creature named Ink is a few moves away from completely crawling out of the enclosure.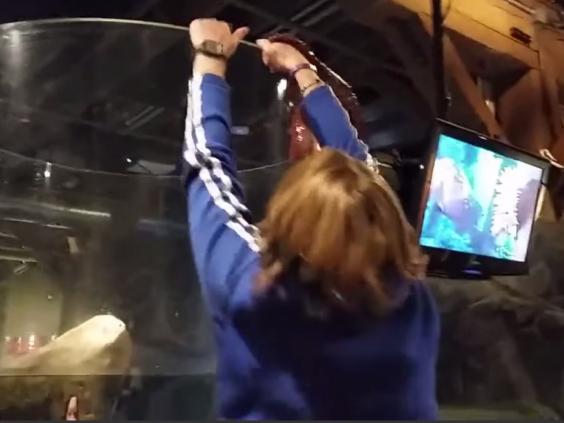 It is only until a member of staff of the aquarium in Seattle reaches up to place Ink's tentacles back into the tank that it pauses its bid for freedom.
The aquarium worker is then seen using a walkie-talkie to, presumably, call for assistance.
Giant Pacific octopuses are highly intelligent and sensitive to their surroundings. They grow bigger and live longer than any other species – four years on average with both females and males usually dying after breeding – according to National Geographic.
Seattle Aquarium's Tim Kuniholm tells Q13 FOX News that the octopus was not trying to make an escape. He claims it was only exploring its surroundings.
He said: "It's a new octopus "Ink" in a new exhibit exploring his boundaries."
Reuse content