A total of 69 people have died and another 350 are missing after a huge mudslide in Guatemala. 
Rescue workers have been frantically searching for survivors in Santa Catarina Pinula, a suburb on the outskirts of Guatemala City, after a hillside collapse buried some 125 homes on Thursday evening. 
Julio Sanchez, a spokesman for the volunteer fire brigade, said the death toll is likely to rise higher as more time passes. 
Earlier reports said 600 people were believed to be missing.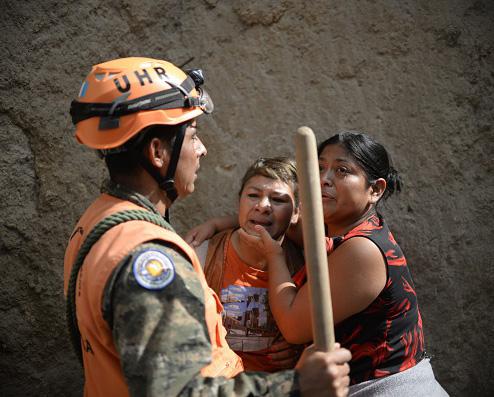 Emergency services coordinator Sergio Cabanas said rescuers "still have hope of finding people alive if we just keep searching."
More than 500 rescue workers, police and family members are desperately combing through the rubble to look for loved ones.
One rescuer, Harold Perez, travelled with four of his family members from the city of San Marcos 177 miles (285km) away to search for his sister, Mary Perez, who he has not heard from since the landslide.
Using shovels, pickaxes and sniffer dogs, rescuers have been working none-stop and halt only when a long whistle is sounded to test if someone is alive under the rubble. 
"We're from the rescue unit," one worker announced. "If there is someone there, please make some noise or yell."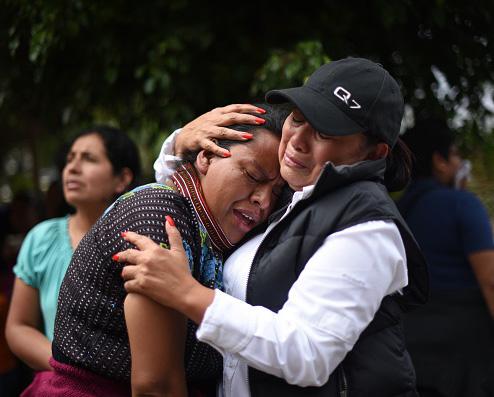 When no response is heard, two more long whistles are sounded, a sign that the workers should continue digging.
Mr Cabanas confirmed he had been contacted by several people who said they had been receiving text messages from family members trapped in the rubble pleading for help. 
Mr Sanchez said rescuer workers were being forced to estimate the death toll by counting heads, legs and torsos spotted in the rubble.
The bodies that have been pulled out, including two babies, have been transported to a makeshift morgue nearby where relatives identify their bodies.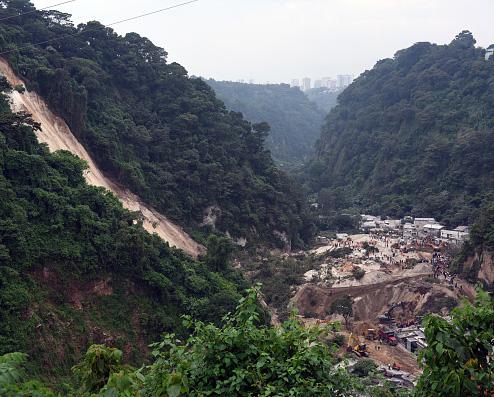 Dulce del Carmen Lavarenzo Pu said she had just returned from church when the ground shook and she heard a terrible noise.
A wave of mud slid from the nearby mountainside and buried everything just 150ft (50m) from her house. 
"Everything went black, because the lights went out," the 28-year-old said. "Ash and dust were falling, so we left the house. You couldn't see anything."    
Additional reporting by AP
Reuse content