A Florida-based gun-maker with an apparent expertise in bigotry has created an AR-15 "Crusader" Rifle that's designed to prevent "Muslim terrorists" from using it.
The Spike's Tactical assault weapon comes complete with a Bible verse: "Blessed be the Lord my Rock, who trains my hands for war, my fingers for battle."
Ben "Mookie" Thomas, former Navy Seal and company spokesman, told the Orlando Sentinel that "no devout Muslim" would dare touch the weapon.
"Off the cuff I said I'd like to have a gun that if a Muslim terrorist picked it up a bolt of lightning would hit and knock him dead," he said.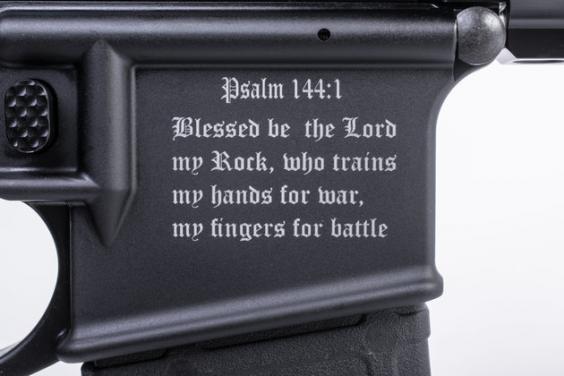 Hasan Shibly, executive director of the Council on American-Islamic Relations of Florida, responded to the gunmakers by asking "Is it designed for Christian terrorists?"
Mr Shibly said that out of 205 mass killings in the US, only one massacre involved a Muslim. He also told the paper that CAIR-FL opposes any form of religious extremism and that the gunmakers "don't have to do outlandish things for us to engage them."
The weapon retails for $1,395 with a manufacturer's lifetime warranty. Sky News reports that the gun's safety lever dons the Latin translation of "Peace," "War" and "God Wills It."
The CAIR-FL issued a further statement in response to the weapon:
"Sadly, this manufacturer's fancy new gun won't do anything to stop the real threat in America: the escalating problem of gun violence. This is just another shameful marketing ploy intended to profit from the promotion of hatred, division, and violence."
In July, the council filed a lawsuit against the Florida gun store which declared to be a "Muslim-free zone."
They also called upon the Department of Justice to prevent further businesses from "harming the right to religious freedom," Reuters reports.
Reuse content