Hurricane Iselle has slammed into Hawaii, toppling trees and cutting power to thousands of homes.
No serious injuries or major damage had been reported by Friday morning as the category one storm passed over the island.
It hit the Puna district at around 9.15pm local time on Thursday, with sustained winds of about up to 70 miles an hour, according to authorities.
Iselle was downgraded to a tropical storm by about 11pm and is expected to weaken as it moves on but left around 18,000 homes without power and trees blocking roads.
More than 1,000 people, including many tourists, had been evacuated to Red Cross shelters on high ground while the island's residents fortified their houses and stocked up on supplies.
But there will be little respite for Hawaii, which is braced for a second hurricane, Julio, tracking closely behind.
Meteorologists originally believed that Iselle would weaken and fade into the Pacific Ocean but later warned islanders to prepare for their first hurricane in 22 years.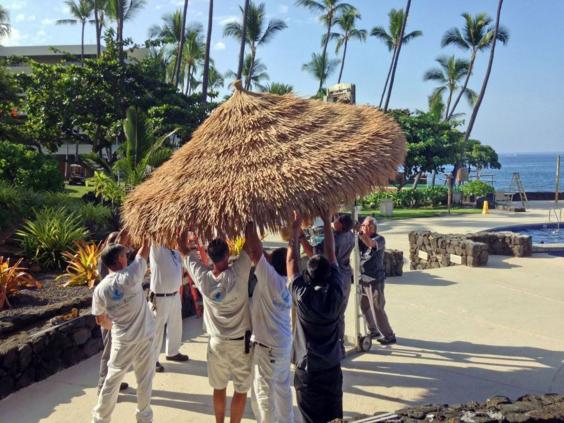 To make matters worse, as residents rushed to gather supplies to deal with possible flooding and outages, a magnitude-4.5 earthquake hit Hawaii's Big Island northern tip about 7 miles (11 km) from Waimea, at about 6.30 am local time, the US Geological Survey reported.
Hawaiian state officials have stressed that the islands are ready for the the second hurricane to strike, and that while residents should prepare, they need not panic.
On Thursday, travellers were alerted to flight disruptions, when commuter airline Island Air said it was cancelling some afternoon flights between the islands and shutting down all operations Friday.
The storms are rare but not unexpected in years with a developing El Nino: a change in ocean temperature that affects weather around the world.
The US National Environmental Satellite Data and Information Service (NESDIS) tweeted a photo of Iselle raging across the ocean on Thursday evening.
#Hurricane #Iselle bearing down on Hawaii. GOES visible imagery from 1:00 pm EDT. http://t.co/A8zmWWM1XC pic.twitter.com/o1bXf0aw9J

— NOAA Satellites (@NOAASatellites) August 7, 2014
Hurricane Julio  swirled closely behind with maximum winds whipping at 100 mph.
The National Hurricane Center said it expected the storm to strengthen even more on Thursday before starting to weaken.
Hawaii has been directly hit by hurricanes only three times since 1950, though the region has had 147 tropical cyclones over that time.
The last time Hawaii was hit with a tropical storm or hurricane was in 1992, when Hurricane Iniki killed six people and destroyed more than 1,400 homes in Kauai, said meteorologist Eric Lau.