Enough heroin to give every man, woman and child in New York City a hit has been seized by police.
In the largest drugs haul in New York's history and the fourth largest in the United States according to officials, more than 70kg of the heroin was found hidden under the floor of a Chevrolet car in the Bronx.
Worth £32 million ($50 million), the heroin had been smuggled in from Mexico.
Jose Mercedes and Yenci Cruz Francisco, both from the Bronx, were arrested and charged with operating as a major trafficker and criminal possession of a controlled substance on Sunday. They were denied bail.
Police also carried out searches in nearby apartments and found £1.3 million ($2 million) underneath some floorboards, and a firearm.
"To put it in perspective, this load was so large it carried the potential of supplying a dose of heroin to every man, woman and child in New York City," said Bridget Brennan, the Drug Enforcement Administration (DEA) and Special Narcotics Prosecutor.
"While this important seizure stopped a huge amount of heroin from flooding our city, it also highlights the critical need to intercept heroin before it ever reaches our region," said Brennan, adding that the heroin and money represented "the suffering of our communities".
The DEA said that a wiretap investigation found that Mercedes and his drug trafficking ring were receiving shipments of the drug every month from suppliers in Culiacan, Mexico, which is controlled by the Sinaloa Cartel.
It is thought that the group supplied heroin to users in New York City, Connecticut, Massachusetts, Pennsylvania and Rhode Island.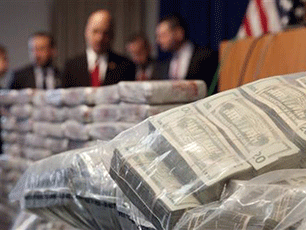 The wiretap investigation also revealed that Mercedes and Cruz Francisco were expecting a shipment over the weekend. Agents followed the pair, who drove two cars to Montville, New Jersey, and then to a residential area of the Bronx.
The Yonkers Police Department's sniffer dogs detected drugs inside the parked Chevrolet Suburban and officers said the suspects informed them how to open secret compartments to find the drugs.
James Hunt, the DEA's special agent in charge, said: "Seventy kilograms of heroin was intended to be distributed throughout the Northeast, proving that NYC is the bull's eye for drug traffickers and heroin is their weapon."
The haul follows a year-long investigation and the arrest of another two defendants in November.
Reuse content