Chelsea Clinton has waded into the 2016 presidential race in a bid to rescue her mother's flailing campaign, after new polls showed Hillary's support among women plummeting, while her rival Bernie Sanders stretched his lead in the key primary state of New Hampshire to seven points.
In an interview with ABC's Today show on Tuesday, Ms Clinton, the only child of Hillary and her husband, former President Bill Clinton, expressed surprise at recent polls that suggest a majority of Americans find her mother dishonest or untrustworthy, following the controversy over her use of a private email server during her tenure as US Secretary of State.
"I'm not a pundit, I'm a daughter," said Ms Clinton. "I love and admire my mom. I know that she's talking about issues that are important to families across our country." The 35-year-old, who works for her parents' organisations the Clinton Foundation and the Clinton Global Initiative, went on: "I believe as more and more Americans hear from her, they'll come to know why I'm so proud to be my mother's daughter... [They] will come to know why I believe so strongly that she would make a great president, and they will reach the same conclusions."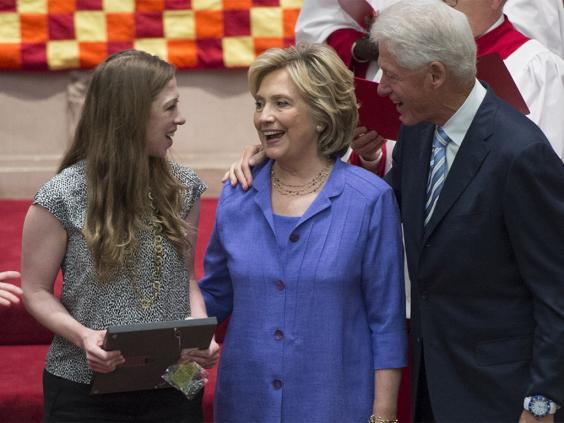 As the GOP prepared for its second presidential debate, the Democrats had their own dramas to contend with. Mrs Clinton, the party's presumptive frontrunner, has seen her support among Democrat-leaning female voters – previously considered her most loyal base – tumble from 71 per cent to 42 per cent since July.
A new poll published on Tuesday by Monmouth University found that Mr Sanders, the independent US Senator for Vermont, who is running as a Democrat, was favoured by 43 per cent of likely voters in New Hampshire, to Mrs Clinton's 36 per cent.
Meanwhile, Vice President Joe Biden, who has yet to decide whether he will join the race, is nonetheless favoured by 13 per cent of likely voters in the state, which will hold the party's second presidential primary in February 2016. In an emotional interview with Late Show host Stephen Colbert last week, Mr Biden discussed the recent death of his son Beau from brain cancer, and suggested he may not be in sufficiently good emotional shape for a White House bid.
Forbes most powerful women 2015: Top 10
Forbes most powerful women 2015: Top 10
1/9 No 1: Angela Merkel

German Chancellor Angela Merkel has topped the list ten times

Getty Images

2/9 No 2: Hillary Clinton

US presidential candiate Hillary Clinton has been on the list for the past five consecutive years (United States)

Getty Images

3/9 No 3: Melinda Gates

Cochair, Bill & Melinda Gates Foundation (United States)

4/9 No 4: Janet Yellen

Chair of US Federal Reserve (United States)

Getty Images

5/9 No 6: Christine Lagarde

Managing Director of International Monetary Fund (France)

Reuters

6/9 No 7: Dilma Rousseff

Brazilian president (Brazil)

EPA

7/9 No 8: Sheryl Sandberg

COO Facebook (United States)

AFP/Getty Images

8/9 No 9: Susan Wojcicki

CEO YouTube (United States)

9/9 No 10: Michelle Obama

US First Lady (United States)
"I don't think any man or woman should run for president unless, number one, they know exactly why they would want to be president and, number two, they can look at folks out there and say, 'I promise you, you have my whole heart, my whole soul, my energy, and my passion to do this.' And I'd be lying if I said that I knew I was there," Mr Biden said.
Ms Clinton, who is publicising her new book aimed at explaining global issues to young people, It's Your World: Get Informed, Get Inspired and Get Going!, described her mother as her "hero" during the Today interview, adding that her own 11-month old daughter, Charlotte, has been Hillary's inspiration during the campaign. "Charlotte is really her North Star in this race," she said.