American leaders of the Catholic Church have spoken out against its members taking part in the Ice Bucket Challenge because the money donated to ALS could fund research using embryonic stem cells, a practice that the church deems to be immoral.
The Cincinnati Archdiocese in Ohio has already warned principles at 113 Catholic schools in the area to "immediately cease" donations to the ALS Association for this reason, requesting that any money raised should instead be given to a "morally licit" organisation.
Both ALS, and in the UK, MND, which are sister organisations aiming to raise awareness of the neurodegenerative disease, known as Motor Neurone Disease in the UK, support the legal use of research that uses embryonic stem cells, while recognising the "significant moral, ethical and religious concerns" that the research methods raise.
In pictures: The famous do the ice bucket challenge
In pictures: The famous do the ice bucket challenge
1/16 Lady Gaga

Lady Gaga managed to keep an admirably straight face as she poured what looked like a solid silver bowl of cold water over herself

HipHopForever/Youtube

2/16 Homer Simpson

Fans were overjoyed when their favourite yellow cartoon character got involved in the campaign to raise money to help those suffering from ALS. As per usual with Homer Simpson, things escalated quickly

YouTube/Fox

3/16 Reece Witherspoon

One of those who have arrived slightly late on the scene, actress Reece Witherspoon looks nervous but resolute as she has a bucket of ice-cold water chucked over her head

Instagram/Reece Witherspoon

4/16 Lily Allen

Lily wore a bikini as she self-administered her bucket of icy water. She thanked Jess Glynne for the nomination, and passed the challenge onto Mark Ronson, Millie Mackintosh and rapper Giggs

Instagram/lilyallen

5/16 Daisy Lowe

Celebrity ALS Ice Bucket Challenge videos seem to be coming in faster than we can watch them - model Daisy Lowe is one of the most recent to get involved. She was nominated by Sun journalist Dan Wooton, and passed it on to radio presenter Nick Grimshaw and Abbey Clancy

YouTube

6/16 Bill Gates

One of the first to go viral on YouTube, Bill Gates had freezing water tipped over him in a bid to raise millions of dollars to fight the illness ALS

thegatesnotes/YouTube

7/16 George W. Bush

It felt like quite an important moment when the former President of the United States accepted nominations from his daughter Jenna Bush Hager, golfing champion Rory McIlroy, Woody Johnson, and Jim Harbaugh. He nominated 'my friend Bill Clinton'

George W.Bush/Facebook

8/16 Jimmy Fallon

In an official letter this week, the ALS Association said: 'Never before have been in a better position to fuel our fight against this disease.'

NBCU Photo Bank via Getty Images

9/16 Tom Hiddleston

Amyotrophic lateral sclerosis affects the brain and the spinal cord. Motor neurons degenerate and die which makes it increasingly difficult to move muscles

YouTube

10/16 Rita Ora

There is no known cause of ALS, though there is a proven hereditary factor in some cases

REX/Broadimage

11/16 Taylor Swift

There is also no known cure, though the millions being raised by the ALS association will go towards researching these great unknowns

TUBEBREAKINGNEWS/YouTube

12/16 Oprah Winfrey

The illness is also known as Lou Gehrig's Disease, named after the all-time great baseball player from the early 20th Century whose time at the top ended when he was stricken with the illness in 1939

13/16 Mark Zuckerberg

The Facebook founder is unarguably the master of the challenge, who – following his drenching – saunters off

TV iGosu/YouTube

14/16 Justin Bieber

Bieber's first attempt was pretty naff: he didn't quite get it and decided not to use ice or a bucket to complete the challenge. Obviously, the internet moaned at him and he was brilliantly peer pressured into having another go

Swaggy Bieber/Youtube

15/16 Justin Timberlake

Celebrities have been nominating one another to do the challenge

16/16 Christiano Ronaldo and Marcelo

The challenge is now making its way over to this side of the Atlantic, former Manchester United players Paul Scholes and Gary Neville both doused themselves in cold water for a terminally ill fan

MaximumFootballHD/YouTube
ALS said that it does fund one research project using embryonic stem cells, stating that donors can request that their money does not go towards this study. Though MND does not currently fund any research using this method, it does support it.
The Catholic Church's stance on the matter is that it is tantamount to abortion, and claims that embryonic stem cell research violates the sanctity of human life, though it does not show the same condemnation towards the use of adults stem cells in research.
"We appreciate the compassion that has caused so many people to engage in this," Dan Andriacco, the Cincinnati Archdiocese spokesperson said, "but it's a well-established moral principle that a good end is not enough.
"The means to that end must be morally elicit."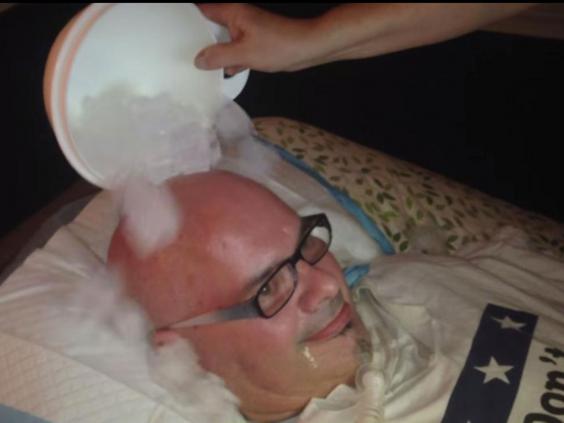 The advice follows a widely shared blog post from an American Catholic priest, Father Michael Duffy, who was nominated to do the challenge himself but explained that the research meant that he could not donate to ALS.
"I will certainly pray for those that suffer from the disease," he wrote.
Pope Francis himself was nominated last week by singer Shakira, but the Vatican has not made any response to the challenge.
Despite ALS's Ice Bucket Challenge turning into a viral success, raising more than $70 million in America, the Archdiocese has instead requested that any schools wanting to take part in the challenge may do so, but that they should donate their money to "pro-life driven" research groups such as the John Paul II Medical Research Institute in Iowa, which Father Duffy also pointed to in his blog.
In the UK, Macmillan Cancer Support has faced its own backlash over joining in with the Ice Bucket Challenge, after it was accused of "stealing the spotlight" from the ALS association.
Macmillan has raised over £250,000 so far from ice bucket funds, after encouraging people to take the challenge and to donate to the charity using the #icebucketchallenge hashtag, and creating its own microsite dedicated to the activity, but the charity was condemned by some supporters for diverting awareness from ALS.
 Video: Celebrities take on the ice bucket challenge
MND said on Monday it had raised £635,000 in text donations alone over the past two weeks, which appeared to have rocketed in the last few days, as awareness of its cause has risen. The charity said that people have also set up their own Just Giving pages for MND too, but the amount these raise will not be known for a number of weeks.
Reuse content