The family of a woman mauled by a pit bull as she completed the ALS ice bucket challenge has released a video of the horrific attack to highlight the dangers of untrained dogs.
Brenda Rigdon from Florida was bitten on the face by her daughter's pet dog, Kilo, as she did the fundraising challenge.
The shocking incident, which happened last year, was caught on camera by her husband, Charles, but only released in February after Mrs Rigdon agreed to share it.
The video was uploaded to YouTube by Mrs Rigdon's son on 27 February and has been viewed over 200,000 times.
Warning: Video contains content that some readers may find upsetting
Mrs Rigdon's son said: "This should serve as a warning to all pet owners. Unless you are going to take the time to make an animal a pet then it will remain an animal."
He explained that the dog belonged to his sister who only kept the animal for "breeding purposes".
He added: "She took no time to train him or make him listen. He was a wild dog and she should be ashamed for keeping him out of selfishness and not love."

In a comment underneath the video, he added that he only learnt his sister had previously gone to hospital after she had been bitten by Kilo.
"Even though Kilo was dumb and stubborn even I did not see this coming. He had no warning signes [sic] or indication of being nuerotic [sic] or anxious around people.
"He did not growl snarl or show any signs of aggression. He just turned for no apparent reason."
In the video Mrs Rigdon's grandchildren pours bowls of cold water on her head as she sits in the garden.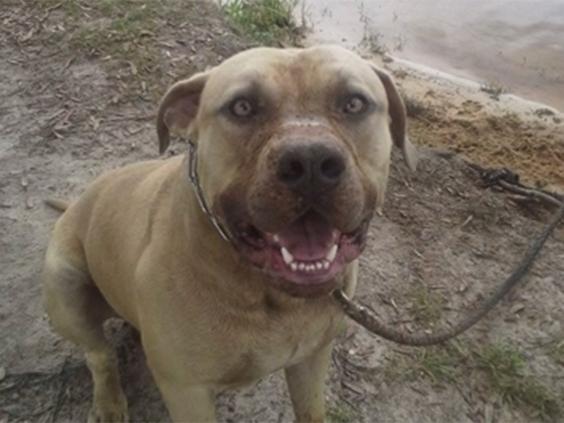 Once the children have thrown the water on her, the pit bull suddenly jumps up and clamps onto the side of her face, causing Mrs Rigdon to scream out.
Mr Rigdon quickly puts down the camera and pulls the animal off her. The children can be heard asking if their grandmother is okay.
At the end of the video there is a photo of Mrs Rigdon after the attack, showing stitches on her wounds and a picture of the dog, which has been put down since the incident.
Reuse content